Bangor drivers confused over replaced parking signs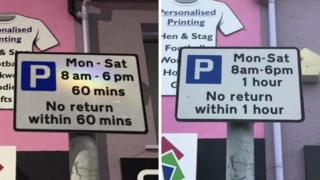 For motorists in Bangor, the times they are a-changing.
A number of parking signs in the town that previously stated that motorists could park for up to "60 minutes" have been changed to limit parking for up to "1 hour".
People living in the County Down town have been asking why the signs were changed when they mean the same thing.
It's understood that at least four of the signs were updated as part of the recent public realm works in the town.
The overall work cost £8m and it's understood the cost of the four replacement signs was significantly less than £100.
One driver, who had the new sign pointed out to her, said she didn't think it was worth updating.
'At a loss'
"I think probably if they wanted to improve the sign in any way, they could have made it bigger but kept the information the same - it's a waste of money," she said.
Terence Malcolm, from the North Down and Ards Road Safety Committee, said he couldn't understand why the signs had been replaced.
"I'm really at a loss, I always thought an hour was 60 minutes but, seemingly, now it's an hour in High Street.
"I have no idea why they changed them, somebody told me a change in the legislation was coming," he said.
A spokesperson for the Department of Infrastructure explained to BBC News NI why the signs were replaced with updated information.
"After the recent extensive public realm works in Bangor the parking and waiting legislation needed to be refreshed to reflect the new parking layouts and associated waiting restrictions from one street to the next.
"This process included rationalising the signs to accurately reflect the physical extent of the new restrictions on the ground and to have them reflect the same language from street to street.
"This also means that the wording on the signs accurately reflects the wording in the new legislation."