Invest NI says collapse of engineering firm "very regrettable"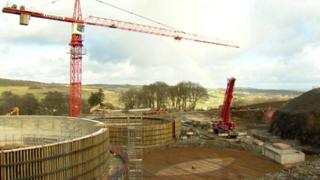 Invest NI has said it is "very regrettable" that a Newtownabbey engineering business has collapsed with the loss of 145 jobs.
Williams Industrial Services (WIS) went into administration after cash problems caused by a contractual dispute involving a £23m project in Donegal.
Construction of the anaerobic digestion facility is being part-funded with an Invest NI loan of £9.3m.
Invest NI is in talks about how the project will now be completed.
Nearly 150 jobs lost at engineering firm
The loan was made to Strabane-based Glenmore Generation Limited, who contracted WIS to build the plant.
It aims to treat 25,000 tonnes of poultry litter from Northern Ireland a year, turning it into biogas energy.
When it was launched in 2016, the project was seen as providing crucial support to the poultry sector and it had the endorsement of the Northern Ireland Executive.
In a statement Invest NI said it made "every effort" to try and assist WIS, "including liaising with the bank and other advisors to try and find a positive outcome".
Over the past five years it has offered Mallusk-based WIS aid of £281,000.
The company's customers over its 30-year history have included Bombardier, Moy Park and Northern Ireland Water.
It had a turnover of up to £50m a year and was one of Ireland's largest providers of environmental engineering technology.