NI paper review: Mixed views on Stormont talks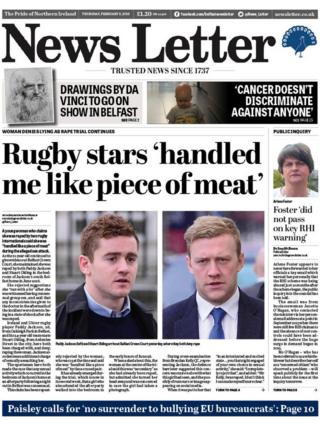 All of Northern Ireland's daily newspapers, with the exception of the Irish News, lead with coverage of the trial of two Ulster rugby players accused of rape.
The alleged victim told the court on Wednesday that she was "handled like a piece of meat".
That comment is the basis of the lead headline in the Daily Mirror, News Letter and Belfast Telegraph.
Paddy Jackson and Stuart Olding deny raping the woman, who was then 19, at a house in south Belfast in June 2016.
Her comments came while under cross-examination by a defence acting for Mr Olding.
'Airbrushed'
The Irish News leads with a story about a leading Catholic grammar removing the image of a former school president, who was accused of sexually abusing pupils, from pictures on display in its corridors.
Fr Malachy Finnegan, who died in 2002, was the subject of 12 allegations of abuse although he was never convicted of any offence.
He taught at St Colman's College in Newry from 1967 to 1976 and was the school's head from 1976 to 1987.
The Bishop of Dromore, Dr John McAreavy has said his decision to officiate at Fr Finnegan's funeral was "wrong".
The Belfast Telegraph also covers this story.
Its editorial states that the episode has left a dark cloud over St Colman's College.
Stormont talks
The ongoing political crisis at Stormont is demoted to page 10 in the Irish News, although the paper's editorial does ask what impact failure to reach a deal on restoring power sharing will have on Northern Ireland's economy.
The News Letter takes a similar approach but the Belfast Telegraph seems to be a little more positive.
"Hopes of deal at Stormont rise as significant progress made in talks," is the Telegraph's headline on their page eight story.
The paper's political editor, Suzanne Breen, writes that "well-placed Stormont sources said that there were strong signs of a talks breakthrough".
It is understood that progress has been made on issues surrounding the Irish language, the Telegraph reports.
In the Telegraph's opinion papers, the former DUP culture minister, Nelson McCausland, writes that Sinn Féin's demand for an Irish language act is an attempt to enshrine preferential treatment for the one cultural tradition in law.
The News Letter covers the story of a Northern Ireland man's film being banned from a London cinema.
'Leaving' homosexuality
Dr Mike Davidson's film "Voices of the Silenced" deals with people "leaving" homosexuality.
Dr Davidson is originally from Hillsborough in County Down and heads a Christian group, Core Issues Trust.
He told the News Letter that he was disappointed by the decision and that the documentary was not "hateful".
However LGBT group Stonewall said the fact that the cinema had originally agreed to show the film was "shocking".
It slammed the film's subject matter as "unethical and degrading".