Belfast Central Station to get new name and look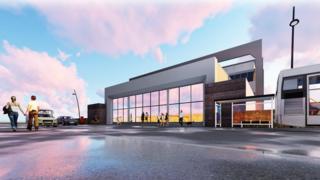 One of Belfast's main train stations is to get a new name and makeover.
Translink says improvement works have already started at Belfast Central Station and will be completed by the end of August 2018.
The name of the station will also change to Lanyon Place from the start of September.
In addition to a more "modern and welcoming" exterior, there will be changes to the ticketing area and improved retail facilities.
More than 2.6 million passengers used Belfast Central station in 2017.
'More clarity'
Chris Conway, Translink group chief executive, said: "When the work is completed it will enhance the overall passenger experience and also support the rapid regeneration of the surrounding area.
''The Lanyon Place area has become a major hub of activity, with the Lanyon name being adopted by a range of neighbouring businesses.
''We consulted with a range of local stakeholders regarding this name change, and Lanyon Place made sense in order to provide more clarity on where the station is geographically located within the city.
"This will also coincide with the introduction of the new Glider service, which will stop in Lanyon Place ensuring greater access, integration and connectivity for passengers."
Translink has other big changes planned for public transport in the city - it is consulting on a new transport hub at the Europa bus centre/Great Victoria Street railway station.