Rugby rape trial: 'No complaint' with defendants' friend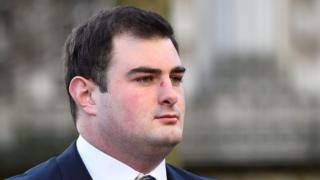 The woman who has accused two Ulster rugby players of raping her has thanked one of their friends for taking her home after the alleged attack.
During day nine of the trial at Belfast Crown Court, the 21-year-old woman said she had "absolutely no complaint" with Rory Harrison.
Mr Harrison, 25, of Manse Road, Belfast, was in the house where the alleged rapes took place in June 2016.
He denies perverting the course of justice and withholding information.
In court on Thursday, the woman at the centre of the case said: "I have absolutely no complaint with him. He took me home and I'm grateful for that."
Mr Harrison's defence barrister, Gavin Duffy QC, told the court that on the night in question he took her home in a taxi and walked her to her front door.
That was around 05:00 GMT. Later that day, he texted her to check how she was feeling, as she had been upset in the taxi.
She texted back: "I know you must be mates with those guys but I don't like them. And what happened was not consensual."
He responded: "Jesus."
He then texted: "I'm not sure what to say."
Questioned about how upset she had been in the taxi, the woman said: "I can confirm I was extremely upset.
"I wasn't screaming but I was crying a lot."
All the evidence
Paddy Jackson and Stuart Olding deny raping the same woman in a house in south Belfast in June 2016.
The woman at the centre of the case was 19 at the time of the alleged attack.
Mr Jackson, 26, from Belfast's Oakleigh Park, is charged with one count of rape and one count of sexual assault. He denies the charges.
Mr Olding, 24, from Ardenlee Street, Belfast, is also charged with rape. He too denies the charge.
Another man has also been charged in connection with the case.
Blane McIlroy, 26, of Royal Lodge Road, Belfast, is charged with one count of exposure. He denies the charge.
The 12-person jury has been told by Judge Patricia Smyth to wait until they hear all of the evidence in the case before coming to any final conclusions.
The trial continues.