Brexit: Simon Coveney seeks clarity over border deal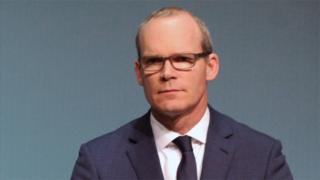 The Irish foreign affairs minister has said there can be "no back-sliding" from the clear commitments over the border given by the UK during talks about leaving the EU.
In December, Theresa May struck a last-minute deal with the EU in a bid to move Brexit talks to the next phase.
It committed to no "hard border" with Ireland and citizens' rights.
Simon Coveney urged "clarity" from the British government on its future relationship with the EU.
Theresa May's government has been discussing that issue in a cabinet sub-committee this week.
Responding to a question from the leader of the Irish Labour party, Brendan Howlin, Mr Coveney, who is also the Tánaiste (deputy prime minister) denied that what was agreed in December was a fudge.
He told the Dáil (Irish Parliament) the UK had agreed, at that stage, to "a fall-back position" that, in the absence of a broad trade deal encompassing new relationships, it "was committed to maintaining full alignment with the customs union and the single market to ensure that the all-island economy and north-south cooperation can continue".
He added that he hoped "we don't have to use that fall-back position" and that the two sides can resolve issues with a broad trade agreement.
Future relationships
The foreign minister said the task now is to put December's political commitments into a legal document, which will be a draft withdrawal agreement.
He added that nobody should yet draw any conclusions about future relationships until "we know exactly the British are looking for".
The European Union has indicated that it would like to hear from the British government by the end of May, on its view of the future relationship between the two sides.