Queen's University Belfast lecturers join strike action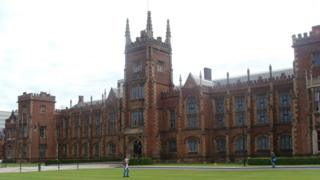 Queen's University Belfast is facing 13 days of strike action from many lecturers, staring on 22 February.
Members of the University and College Union (UCU) at Ulster University had already decided to strike.
The UCU branch at Queen's, which has more than 900 members, has now confirmed it will take similar action over planned changes to staff pensions.
Disruption to classes, lectures and other university activities is expected.
UCU members at Queen's were contacted by email on Thursday confirming the action.
They have been instructed not to work on 22 and 23 February.
They plan to do the same on 26, 27 and 28 February.
Further strike action is planned for eight days during the first two weeks of March, although there will be no strike action at Queen's on Friday 16 March.
'Breaking point'
In an email to members, UCU branch president Dr Fabian Schuppert said the changes to pensions were "severe" and "far-reaching".
"We all want to do our work. Teach students, do research, make Queen's run smoothly and be proud of where we work and what we do," he wrote.
"Unfortunately, this will not be possible.
"We have reached a breaking point and we need to stand up and defend our pension, since this latest proposed cut is not an isolated event.
"It follows a long series of erosions of our working conditions, including losses in real term earnings, increased workload and diminishing pension benefits."
The move by lecturers at Queen's and Ulster universities follows a strike vote at 61 universities across the UK last month.
Staff are angry at plans to change the Universities Superannuation Scheme from a defined benefit scheme - where they would have a guaranteed income in retirement - to a defined contribution scheme, where their pensions would be subject to changes in the investment markets.
It is claimed the changes could cost an average lecturer more than £200,000 over the course of their retirement.
The strike action has been criticised by the umbrella organisation for higher education, Universities UK.
The National Union of Students have, however, previously indicated their support for the UCU action.