IFA, GAA and Ulster Rugby help to 'tackle domestic abuse'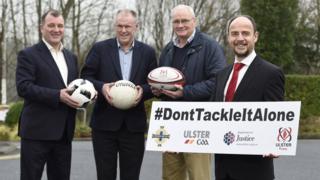 Northern Ireland's leading sports organisations are involved in a new campaign aimed at encouraging victims of domestic violence to report abuse.
The Irish Football Association, the Ulster Gaelic Athletic Association and Ulster Rugby have all given their support to the sports-based initiative.
The 'Don't Tackle It Alone' campaign will be promoted during their matches.
The first messages will feature on pitch-side screens as Ulster Rugby play Southern Kings on Friday night.
They will also be screened at prominent GAA matches, including the Dr McKenna Cup Final in Derry on Saturday 17 February, and at Windsor Park next month when Northern Ireland play South Korea.
'Speak out'
The campaign has been developed by Stormont's Department of Justice (DOJ) over the past year, in partnership with the three sports organisations.
Ulster Rugby's chief executive, Shane Logan, said: "Ulster Rugby is fully behind this important initiative, which raises awareness of domestic abuse and offers encouragement to victims to seek support.
"I commend the Department of Justice on this programme and I'm pleased that Ulster Rugby, Ulster GAA and the Irish FA can assist in its delivery."
The chief executive of Ulster GAA, Brian McAvoy said: "We hope this campaign will encourage those with concerns to speak out and get the help they need; and that ultimately we can help to reduce the incidence of domestic abuse."
The Irish FA's chief executive, Patrick Nelson, added: "No-one should have to tackle domestic abuse alone and my hope would be that with the three sports working together to promote this message, in conjunction with the Department of Justice, that we can reduce instances of abuse and direct people to where they can find help."
There were more than 29,000 reported incidents of domestic violence and abuse in Northern Ireland last year.
The head of DOJ's community safety division, Anthony Harbinson, said: "Domestic violence and abuse, which often features sexual abuse, is significantly under reported.
"Tackling it is everyone's responsibility and we are delighted to be working in partnership with Irish FA, UGAA, and Ulster Rugby to raise awareness and to deliver a clear message that anyone who thinks they or someone they know is being abused don't have to tackle it alone."