Private sector 'best start to year' in decade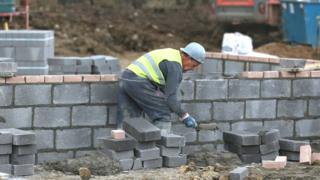 Northern Ireland's private sector has had its best start to a year in more than a decade, according to an analysis of leading firms by Ulster Bank.
Businesses in the services and construction sectors are seeing the strongest growth.
The bank conducts a monthly survey of companies, known as the Purchasing Managers Index, which tracks new orders, employment and exports.
Its chief economist Richard Ramsey said firms were upbeat.
"What does or doesn't happen with Brexit will have a large bearing on whether this optimism is realised," he added.
The bank's data showed Northern Ireland's private sector growth hit a 13-month high in January.
However, manufacturing was the one sector to report a slowdown.
But Mr Ramsey said manufacturing activity remains "robust".
"Indeed, manufacturers increased their staffing levels at their fastest rate in 32 months," he added.