RHI Inquiry: 'Whistleblower' would take same actions again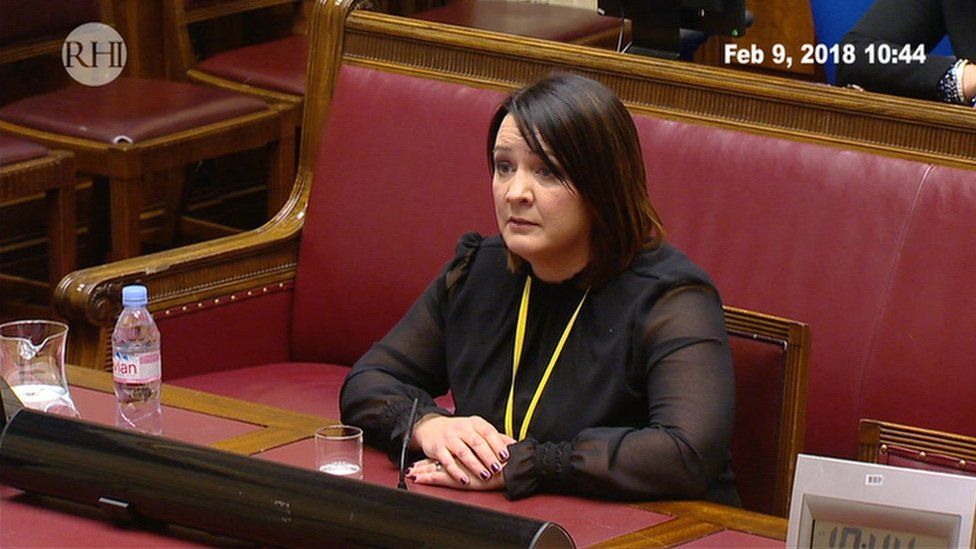 A "whistleblower" businesswoman has told the Renewable Heat Incentive (RHI) scheme public inquiry she would take the same actions again.
Janette O'Hagan was speaking on Friday.
She said she would do the same thing if the RHI debacle happened again, despite unwillingly becoming the centre of a political and media storm.
"I would say I wouldn't want to, but I would have to," she said.
"I would have to, given the holes that were in the process, the issues that weren't picked up, and the money that was wasted...I would have to do it again."
Ms O'Hagan was selling a heat efficiency product in 2013, but found potential clients were not interested, especially when they had signed up to the RHI scheme.
She raised concerns with the then Enterprise Minister Arlene Foster.
Months after the RHI initiative launched, she wrote several emails to Mrs Foster.
The first two had general comments about the scheme and sought a meeting.
But the third one, sent to Mrs Foster's constituency email address, flagged more specific issues about alleged misuse.
The inquiry heard that one of the emails containing the more general comments was forwarded from Mrs Foster's constituency account to her departmental officials and led to a meeting with them.
Ms O'Hagan told them about her concerns of people on RHI "burning to earn" and was told "we don't think people will do that".
After the meeting, she felt dismissed and that it had been a waste of time, she told the inquiry.
'Radiators outside buildings'
Her third email, which set out more specific issues, does not appear to have been sent on from Mrs Foster's constituency account.
During her evidence to the inquiry, Ms O'Hagan said she had started to get a "bit of a niggle" and checked out the regulations, to compare them to the ones in Great Britain.
Ms O'Hagan said she saw the problem "immediately" with the lack of a tiered tariff in the Northern Ireland scheme.
She added that her concerns "snowballed".
The businesswoman said in the meeting with officials from Stormont's enterprise department, she remembers telling them she was "surprised people weren't putting radiators on the outside of buildings" such was their ability to make profit through RHI.
Later, Ms O'Hagan told the inquiry she was "really, really shocked" when an email she had sent to the Department of Enterprise Trade and Investment (DETI) in 2013 appeared on the BBC's Spotlight investigation programme about the RHI debacle, that was broadcast in December 2016.
Ms O'Hagan said she had sat down to watch the programme and was astonished when she saw words she had written more than three years earlier appear on it, adding that Spotlight had not been in contact with her about it.
The inquiry chair, Sir Patrick Coghlin, noted that "this email could only have come from a government source".
Ms O'Hagan went on to say it was a "complete disgrace" when the emails she had sent to Mrs Foster in 2013 were published on Twitter by the Democratic Unionist Party in December 2016.
The party's deputy leader, Nigel Dodds, published one of the emails, saying it "nails the myth" that Mrs Foster "failed to follow up on whistleblower concerns" about the RHI scheme.
In a heated email to Stormont's Department for the Economy (DfE) - formerly DETI - Ms O'Hagan said that it and the DUP had made "me out as a liar" about the RHI scheme.
She explained to the inquiry how she told a DfE official that "you did not ask nor get my consent" to allow the DUP to release her email, and that it had been poorly-redacted, allowing people to work out her identity.
In her email, Ms O'Hagan said she took "great offence" at some of what the DUP and the economy department had said about her and she demanded that their statements would be "publicly retracted".
"I have not and will never lie about what has happened," she added.
Ms O'Hagan said she would rather her identity had not been known, allowing her to safeguard her family and her business.
Janette O'Hagan has now completed her evidence to the RHI Inquiry and was warmly thanked by the chairman, Sir Patrick Coghlin.
On Friday, it emerged that meetings involving Mrs Foster and her officials were "routinely" not minuted.
That was in breach of Civil Service guidance.
The DfE told the inquiry it had become "custom and practice" for no notes to be taken.
Inquiry counsel Joseph Aiken said they had been trying unsuccessfully to find minutes of one such meeting in February 2014 when RHI was on the agenda.
It had involved the former permanent secretary of DETI, David Sterling, the minister, and her special adviser Andrew Crawford amongst others.
Mr Aiken said the inquiry panel would want to find out who had taken that decision and why it had been allowed to continue.
He also revealed that references to cost controls in the non-domestic scheme dropped out of departmental position papers in 2014.
He said a planned review of the scheme, that might have picked up flaws, had been pushed out by a year to 2015/16 from 2014/15.
Mr Aiken also said officials responsible for running RHI had been working on possible cost controls for the non-domestic scheme in early 2015 "when the world collapsed on the subject of RHI".