Bereaved woman's handbag stolen as she visits parents' grave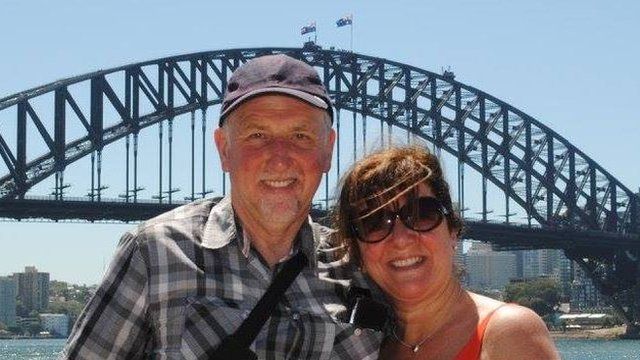 A County Down woman whose handbag was stolen, whilst visiting her recently deceased parents' grave, has made an emotional appeal to the thief to return it.
Irene McCready, from Donaghadee, went to visit her parents' grave beside Inch Abbey monastic site in Downpatrick on Thursday.
Her father, David Price, died three weeks ago, while her mother Renee died in October last year.
Mrs McCready had been using her mother's bag. It contained her phone, which had recent pictures of her parents on it, as well as sentimental items, her purse and medical adrenaline.
An emotional Mrs McCready told BBC News NI she had gone to the grave to "tidy it up".
"I had my little dog and my mummy's brother who is 80 was with me.
'Knew what they were doing'
"Because my dad died recently and his wreaths were still on the grave, I was going down to take the old ones away.
"I ran back to the car to get my phone to take a picture of the new headstone and realised when I got there my handbag was away."
She was able to use a gravedigger's phone to raise the alarm and call the PSNI.
"I just feel very sad because you can see my car from mummy and daddy's grave so they knew what I was doing.
"I'm just so sad that someone targeted my car after that."
She and her friends and family looked around the area to see if the bag had been thrown away but had no success.
However, said she didn't care about the cash or cards but the sentimental items.
"It was my mum's handbag that I had bought for her from daddy for their anniversary. That hurts the most. They don't care about any of that.
"It's the little things. The bag was my mum's, the glasses' case inside was my mums.
"I had transferred little things from my mum's purse to mine and cards she'd given me to tell me how much she loved me.
"I brought down some of my sympathy cards to show my brother and they were in it.
"The handbag was a navy blue handbag with three openings with zips on it and a little Scotty dog hanging from it."
Mrs McCready's medication was also in her bag.
"I had a very severe anaphylactic reaction to antibiotics and had to carry adrenaline with me, which was also taken.
"I would just love to have the bag and sentimental stuff returned if possible."
Police in Downpatrick confirmed they are appealing for information following a report of a theft from a car park in the Inch Abbey Road.