Newtownbutler wedding murder: Four admit charges linked to killing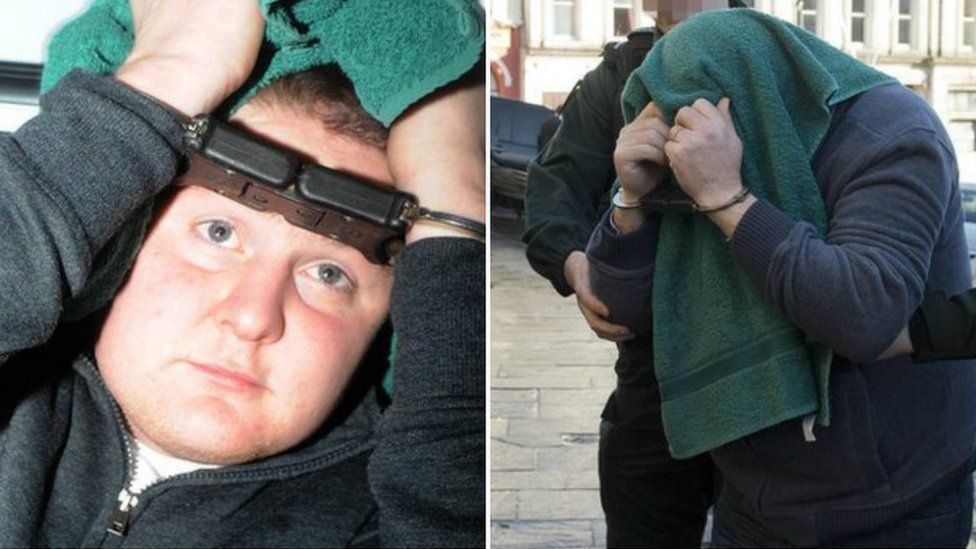 Four people, including a father and son, have admitted charges relating to the killing of a man at a wedding in County Fermanagh.
Bernard McGinley, 63, known as Barney, was shot in front of his wife and grandchildren outside St Mary's Church in Newtownbutler on 11 February 2015.
Patrick McGinley, 49, and his son William McGinley, 29, from Irvinestown, were among those in court.
The deceased was Patrick McGinley's uncle.
Bernard McGinley died in hospital after being shot moments before the wedding was due to start. At the time of the murder, police linked the fatal shooting to a feud within the travelling community.
Patrick McGinley, from Ardlougher Road in Irvinestown, and William McGinley, from Sallyswood in Irvinestown, had previously pleaded not guilty to murder and also denied attempting to murder the victim's son, Bernard McGinley Jnr, on the same date.
Another Patrick McGinley, 24, from Lisfarrell, Edgeworthstown, County Longford, and a youth, who cannot be named due to his age, had previously pleaded not guilty to murdering Mr McGinley and attempting to murder Bernard McGinley Jnr.
All four defendants were due to stand trial on Monday, 12 February.
At Belfast Crown Court on Friday, defence barristers for the four defendants asked them to be re-arraigned on the charges they faced.
Patrick McGinley, 49, pleaded not guilty to murder but guilty to "manslaughter''.
William McGinley pleaded not guilty to attempted murder but pleaded guilty to "wounding with intent''.
Prosecution counsel Neil Connor QC told the court that a new charge had now been added to the indictment in respect of the two remaining defendants.
Patrick McGinley, 24, and the youth, both pleaded guilty to a new charge of affray.
Mr Connor told the judge that the guilty pleas were "acceptable to the prosecution''.
He also asked for the remaining charges to be "left on the books and not to be proceeded with without the leave of the Crown Court or the Court of Appeal''.
Mr Connor added that a victim impact report on Mr McGinley's widow had already been completed.
Mrs McGinley and family relatives were present in court for the hearing.
Defence barristers for a number of the defendants said they would be producing medical reports for the sentencing hearing.
The judge ordered pre-sentence reports on all four defendants and released them on continuing bail ahead of the sentencing hearing on Friday, 23 March.