Subbuteo 'childhood treasure trove' found in Dundonald attic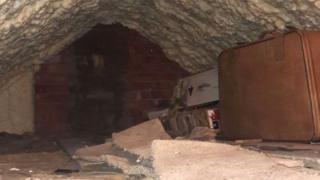 The strangest things can turn up in the hidden places of our houses.
Very rarely, it'll be something to take to the Antiques Roadshow. Or to the police.
Most of the time, the find is meaningless - a box of clothes outgrown by an unknown person; forgotten fragments of other lives.
But, Brian McCart's discovery was different.
Contractors were insulating the roof space of his home in Dundonald, on the outskirts of Belfast, when they found it.
'This Subbuteo Team is Linfield...nearly'
A dusty old box, stuffed in an obscure corner of the loft, filled to the brim with sets of Subbuteo teams from the 1980s.
"All we keep up there is Christmas decorations. A suitcase. It was basically hidden in a corner," he said.
The sets bore the unmistakeable hallmarks of a childhood obsession - some were in pristine condition, others well-worn with hours of play.
Aston Villa, Watford, Southampton - they were all there. So, too, was an England team apparently dating from the Italia '90 era, with one player missing (perhaps Stuart Pearce or Chris Waddle went out the window after those penalty misses).
A Leeds team in a plastic bag, no box, had fared less well.
'Pristine condition'
But, best of all, there was one generic team in blue in a standard "Subbuteo Team" box.
Extra words had been stencilled on the front. They read: "This Subbuteo Team is Linfield nearly."
For Brian, it was like crashing back in time to his own childhood.
"It was crazy," he said. "I had Subbuteo when I was younger too, and used to play it with my brother. We had red and blue teams and used to play them as Glenavon and Portadown.
"We did the exact same thing as this kid did, only maybe a decade later."
'Chucked out'
Brian even reckoned he had the same England Italia '90 team as the one found in his loft - although his collection was long gone.
"My mum chucked it out but I wish I still had it - we've been picking up old toys and board games for our daughter."
The discovery has left Brian wondering about the young Linfield fan who owned this lost Subbuteo stash? And would they remember hiding it away and never returning to it?
It's easy to forget now just how massive Subbuteo was.
You might also like:
At the height of its popularity, more than 300,000 team sets were sold every year - international tournaments, including World Cups for the best Subbuteo players, were set up and continue to this day.
More than 700 different team strips were produced, with hundreds dedicated to specific teams across the Football League and beyond.
But according to Pete Whitehead, who runs the Subbuteo World website, no specific team kits were ever produced for clubs in Northern Ireland.
"You would have had a situation where a generic kit could be applied to a lot of teams. So for instance, kit number 15 was a green kit and was applied to Ireland, but also Cork Hibernian.
"But they wouldn't have made one kit for an Irish club."
From a description of Brian's find, Pete reckons the kits date from the 1970s and 1980s, with the different box of the "Linfield" kit placing its manufacture between 1978 and 1981.
For Pete, a kit from this era in mint condition would sell for at least £15 or £20, with prices rising steeply depending on all sorts of things that Subbuteo collectors crave.
'Time capsule'
Brian acknowledged the collection could potentially earn him a small amount - and, weirdly, it would not be the first time he's made a profit from something lost and found in his house.
"We did up the garage a couple of years ago and we found an old Amstrad computer as well as a porn magazine - so, I guess from Subbuteo into these other hobbies would be a natural progression.
"I sold the Amstrad for £10 as it didn't power up. Really, this entire house is like a time capsule."
But, the finding of this lost Subbuteo treasure-trove has more significance to Brian, for a personal reason that suggests he won't be parting with it for money.
Poignant
"We had a daughter 10 months ago - Juneau - and myself and my wife have been collecting lots of old board games, children's books, charity shop stuff so we can pass it down to her or show her the things that we loved as children," he said.
This Subbuteo collection may not be worth that much in terms of pounds and pence but it represents something more poignant - forgotten loves, rediscovered and passed on.
As Brian said: "Not to be cheesy, but sharing this with my child is a big deal."
Did this stash of Subbuteo in Dundonald belong to you? Or has our story brought back memories of your lost toys and childhood obsessions? We want to hear from you - get in touch by emailing bbcnewsni@bbc.co.uk or dropping us a line on Facebook or Twitter.