Rugby rape trial: Woman said others 'acted in slutty manner'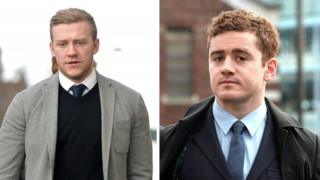 A woman who has accused two Ulster and Ireland rugby players of raping her has been questioned about texts she sent after the alleged attack.
In one text, she said that three other young women who went to Paddy Jackson's house had acted in a "slutty" manner.
In court on Monday, the woman said they had been sitting on the knees of some of the men in the house and taking photos.
Both Mr Jackson and Stuart Olding deny raping the woman.
She said she had used the word "slutty" in a text because she was angry at the time, having been raped the previous night.
It was also put to her, under cross-examination, that she could not remember everything that happened that night.
'Clear, precise moments'
The 21-year-old agreed that parts of her memory were "fractured", maybe due to the influence of alcohol.
She said: "Yes there are moments of the night that are fractured."
But she added: "There were very clear, precise moments that I can remember."
She later denied claims that she willingly engaged in sexual activity with one of Mr Jackson and Mr Olding's friends on the night of the alleged attack.
The court heard allegations that she kissed 26-year-old Blane McIlroy and was involved in consensual sexual activity with him, as well as Paddy Jackson and Stuart Olding.
In response, the woman told the court: "This is completely incorrect."
Mr McIlroy, of Royal Lodge Road, Belfast, was in the house where the alleged rapes took place in June 2016. He was later charged with exposure, which he denies.
'Abundantly clear'
She was cross-examined by Mr McIlroy's defence barrister, Arthur Harvey QC.
He put it to her that she had willingly engaged in sex with a number of men but later regretted it.
She responded: "I refute everything you have just said."
Mr Harvey put it to her that Mr McIlroy became sexually involved with her after Paddy Jackson and Stuart Olding, and it had been consensual.
She responded: "None of that ever happened. I don't know why your client is stating that it did."
She added: "If Mr McIlroy had touched me, I think I would have made that abundantly clear to the police."
She told the court that after she had been raped by Paddy Jackson and Stuart Olding, Mr McIlroy came into the bedroom naked.
'Go into shutdown'
She said he asked to have sex with her but she ran out of the room.
Earlier, during Monday's hearing, she explained her state of mind on the day after the alleged rapes.
She said: "Immediately after a violent attack like this you go into shutdown."
Defence barrister Arthur Harvey QC questioned the use of the word "you" rather than "I".
He said: "You are repeating something you've read, rather than something you have personally experienced?"
She replied: "That's completely incorrect."
She added: "I'm trying to make this applicable to everyone here."
The woman at the centre of the case was 19 at the time of the alleged attack in June 2016. She is now 21.
She began giving evidence in the first week of the trial. Today is the seventh day on which she has given evidence.
In total, four men have been charged in connection with the case.
Mr Jackson, 26, from Belfast's Oakleigh Park, is charged with one count of rape and one count of sexual assault. He denies the charges.
Mr Olding, 24, from Ardenlee Street, Belfast, is also charged with rape. He too denies the charge.
Mr McIlroy denies a charge of exposure and a fourth man, Rory Harrison, 25, of Manse Road, Belfast, denies charges of perverting the course of justice and withholding information.
Mr Harrison was also in the house at the time of the alleged attacks.
The 12-person jury has been told by Judge Patricia Smyth to wait until they hear all of the evidence in the case before coming to any final conclusions.