Kayden Fleck: Book of condolence opens at primary school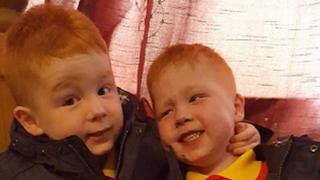 A book of condolence has opened at the school of a five-year-old boy who died after falling into a river in County Antrim.
Kayden Fleck was recovered from the Braid River, Ballymena, on Saturday afternoon in a major multi-agency rescue operation.
He was airlifted to hospital in Belfast, where he later died.
The principal of Harryville Primary School, Lesley Meikle, told BBC News NI that staff are "in shock" at the news.
The school posted on facebook that a book of condolence would be available to be signed from 12:00 GMT on Monday.
'Lovely wee chatterbox'
Kayden Fleck travelled more than 6 km (four miles) along the river from the point where he entered the water to the point where he was pulled out.
Head teacher, Ms Meikle, described Kayden and his twin brother, Jayden, as "real wee bubbly characters".
"He was a lovely wee chatterbox," she said.
"The boys just bounced around, just like typical wee boys."
She said that a lasting memory will be of Kayden dressed up as a superhero, along with the rest of the class, to mark their last school day before the half-term holidays on Friday.
Ms Meikle said it was something "lovely" to remember of something "so tragic".
The principal said support for grieving pupils and staff will be made available when the school reopens after the holidays.
"It's hard to know what exactly we are going to do, but we will just get together," said Lesley Meikle.
"We are a big school family and support in any manner we can.
"I don't think it has really sunk home for everybody, and probably won't until we see his empty desk.
"It is just a very difficult time."
The family's pastor, Thomas Todd from Ballykeel Pentecostal Church, said the community was in shock.
"It has impacted anybody who has children because they feel that sense of loss, but I don't think any or us will understand fully what his parents, Leanne and Darrel, are going through at this time."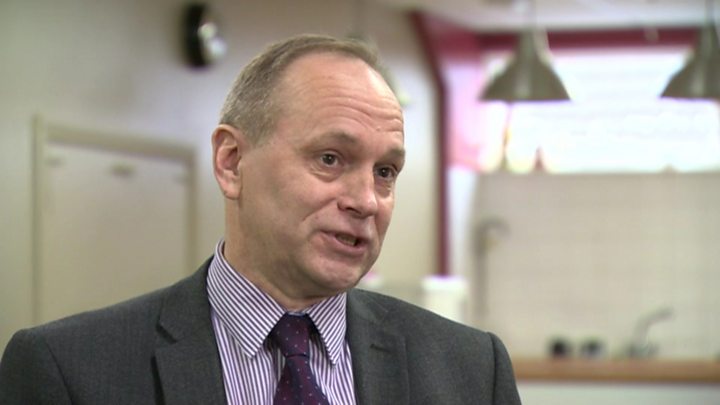 Safety call
He said Kayden's twin brother Jayden had been told about Kayden.
"It's difficult to say how much of this Jayden totally understands and grasps," he said.
"He and Kayden were very close to each other. When you saw them, they were together. He has some understanding, but it's difficult to say at five years of age."
He also said Kayden's family have expressed their hope that river paths in the town will be made safer, especially those "close to housing areas, where children might be".