NI newspaper review: Funeral violence and fake lip gloss danger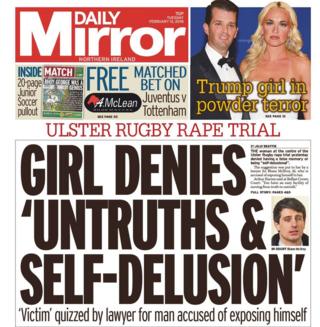 The "final push" at Stormont, violence at a funeral and the dangers of fake lip gloss all appear in Tuesday's papers.
Although the expected decision day at Stormont turned out to be something of a damp squib, events on the hill still feature heavily.
"May urges one final push to seal deal" is the headline on the front of the News Letter.
The paper says the main sticking point preventing the restoration of an executive is an Irish language act.
It also says that Prime Minister Theresa May "side-stepped" a question on whether Sinn Féin had held the process to ransom over the last 13 months.
The other local papers keep events at Stormont off their front pages, but still devote extensive coverage to them.
'Fudge-flavoured deal'
The Belfast Telegraph's Claire O'Boyle probably sums up Monday's all too familiar goings-on best: "Caught in a buzz of expectation and hype, all we were left with by the end was the usual waiting game."
She says as the UK and Irish prime ministers arrived at Stormont "a half-filled bus of tourists passed".
"They gawked and waved from the top deck, curious to know what momentous moment they'd stumbled upon.
"But it wasn't long before the buzz that had built up over the weekend began to fizzle out, becoming little more than another damp squib on the long dull road to the any restoration of devolution."
The paper's Suzanne Breen says that an Irish language deal "could be fudge-flavoured so that both sides can swallow it".
The Irish News says that Mrs May and her Irish counterpart Leo Varadkar left the talks without witnessing a deal, but both remain hopeful that one is near.
All the papers feature the death of former teacher May Stevens, who was found dead at her north Belfast home a short time after burglars stole her car.
They report that Mrs Stevens was due to become a grandmother for the first time.
The Irish News quotes Set Ch Insp Peter Montgomery, who said: "May touched the lives of many people living in this community as she was a long-standing public servant.
"This incident has left the Stevens family mourning the loss of a wife, mother and sister. Mrs Stevens was looking forward to becoming a grandmother."
Violence at St Colman's graveyard in Lurgan also appears in all the papers.
The Belfast Telegraph says disturbances took place during the funeral of a well-known member of the Travelling community.
One local resident tells the paper they were not sure "how it all kicked off."
Finally the Daily Mirror has a warning from a north Belfast teenager to anyone thinking of buying cheap cosmetics online.
Rachael McLaughlin was left struggling to breathe and could not feel the bottom of her face after applying fake Kylie Jenner lip gloss she had bought for £3 on a social media site that has since been removed.
She said she went to hospital because she could not breathe properly and her blood pressure was very high, while her lips were so swollen she looked like a different person.
"It was the scariest experience ever," she tells the paper.