Omagh water: NI Water to tackle herbicide incident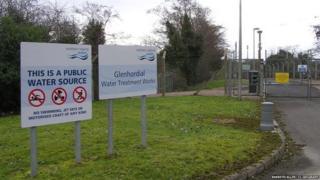 Northern Ireland Water has been ordered to set out its plans to prevent another spike of herbicide in the drinking water of a County Tyrone town.
It follows an incident last July when levels of MCPA in treated water supplied to 11,000 people in Omagh breached EU standards.
NI Water said there had been no health risk from the levels detected.
MCPA is used by farmers to kill rushes and can leach into watercourses from which raw water is taken.
It is a problem in several water catchment areas around Northern Ireland.
In some water treatment works expensive carbon filters have been installed to remove it.
Spike
The spike in the herbicide was detected by NI Water as it carried out routine testing of treated water from the Glenhordial works.
It alerted the Drinking Water Inspectorate.
The company said there had been no history of MCPA problems at the works and it had previously been considered a low risk.
The treatment works does not have a facility to remove it.
The level detected in July was 0.6 micrograms per litre of water. The EU target is 0.1micrograms.
Stringent target
It is a much more stringent target than the World Health Organisation target of 2 micrograms.
There were further breaches in August but at a more lower level.
The Drinking Water Inspectorate classified the July incident as "significant".
It has given NI Water until March to set out how it intends to prevent a repeat.
'No higher priority'
The company said it had "no higher priority than the provision of safe, clean drinking water".
It said that, as well as looking at enhanced treatment, it would work with farmers in the area to raise awareness and provide alternatives to the herbicide.
"Although the stringent regulatory standard for MCPA within EU water quality standards was breached in this instance, it should be stressed that all results were well below the World Health Organisation (WHO) guideline value and therefore there was no health risk from the levels of MCPA detected.
"The Glenhordial catchment area has not had a history of exceedances of this nature and since this incident no further contraventions have occurred."
As well as Omagh, water from Glenhordial is part of a mixed supply to a further 22,000 people in the Loughmacrory and Killyclogher areas.
NI Water conducts more than 100,000 tests a year on the public water supply. Any contraventions are reported to the Drinking Water Inspectorate and investigated.