Vaginal mesh implants: High demand at new Belfast unit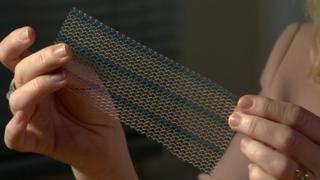 A specially-accredited unit has been set up in Northern Ireland to deal with women who are coping with problems resulting from vaginal mesh implants.
It is based at Belfast City Hospital, where dedicated clinicians can treat women with mesh-related problems.
If suitable, patients can be referred to have the mesh removed either in NI hospitals, or in England.
The mesh centre is a joint initiative between the Public Health Agency and the Health and Social Care Board.
'Work in progress'
A health spokesperson told the BBC that the centre is coping with the level of demand and clinicians are talking to women affected about how best to improve the service.
Dr Christina McMaster, a consultant in public health, said it is a work in progress.
"We are now dealing with groups of women and groups of clinicians to re-establish a good partnership and making sure the information that women are given is of a kind that women understand and value and that the services are meeting the needs of these women," she said.
Over the past 10 months, the vaginal mesh story has gathered pace, with an increasing number of women revealing how mesh - used mostly to treat incontinence - has eroded inside their bodies.
In June 2017, a number of local women told the BBC how mesh implants had left them physically and mentally scarred.
Since then, an increasing number of women and men have come forward with personal stories of how mesh has created complications for their physical and mental health.
'Shocking experiences'
In an interview with the BBC, the authorities said they were aware of the problem 12 months ago and are responding as best as they can.
So far, six meetings have taken place between clinicians and the two Northern Ireland-based mesh groups.
Dr McMaster described some of the women's experiences as shocking.
"The stories are very impressive and some are harrowing, but we need to remember that any surgery, any intervention, can cause difficulties," she said.
"We know we've had 6,000 people in Northern Ireland who have undergone mesh-related procedures and the numbers of those who have come forward at present are in the hundreds, which is significant."
Some of the women have said they no longer trust the local health service to remove the mesh and are insisting they travel to London instead.
Dr McMaster said that was not something unique to mesh.
"We are working closely with these women in our working groups - in fact, we have met them six times and the relationship is a very productive and positive one.
"We are working with the women and clinicians in the same room so we can hear from everyone's perspective so we can improve on the services as best we can."
Mary McLaughlin from the group Mesh Ireland said a lot more work needs to be done.
"Since the creation of the specialist centre, we know of three members who are being sent across the water," she said.
"This demonstrates that we still do not have adequately experienced specialists who perform full mesh removal surgery.
"We also don't have 3D translabial scanning services.
"The newly-formed cross-party mesh group will strengthen the voice of our mesh injured members at department level."
In August, three different letters were dispatched from various health bodies highlighting the Department of Health's stance on vaginal mesh implants advising staff, including GPs, how they should deal with complaints.
At the time, a women's support group said it welcomed the move as it was the first indication that they were being taken seriously.
Jackie Harvey, from Sling the Mesh Group NI, and Mary McLaughlin recently took part in a delegation led by Sinn Féin to meet the Department of Health's permanent secretary Richard Pengelly.
"I think it gets the word out there that these implants are not fit for purpose," she said.
"They are both a surgical problem and a product problem.
"[The meeting] is a step in the right direction and we are pleased."
The result of an audit into mesh implants, carried out in 2013 in Northern Ireland, is expected to be published imminently.
It is examining how women were prepared for the operation, consent issues, and any complications during the operation and immediately afterwards.