Man attacked by sword-carrying burglar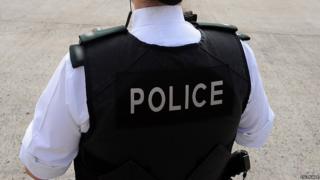 A man has been assaulted by a man carrying a sword in north Belfast.
Police have appealed for information on an aggravated burglary, which happened in Oakley Street shortly after midnight on Wednesday morning.
The occupants, a 25-year-old man and 35-year-old woman, were threatened and the man was punched.
Police said three men wore balaclavas and carried bats and bars. The fourth, who was undisguised, carried a sword.
He is described as about 19 or 20 years old, thin, around 5ft 7in tall, with short, dark hair brushed forward.
Det Sgt Keith Wilson said: "This fourth male punched the male occupant to the head. The intruders then smashed a front window as they fled the scene."