Ten councils to hike rates - most by inflationary 3%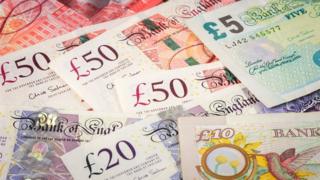 Ten of Northern Ireland's 11 district councils are hiking rates from April - most by around the 3% rate of inflation.
The exception is Causeway Coast and Glens Borough Council who, for a third successive year, are not increasing charges.
Instead, it said it will seek to make "efficiency savings" of £1.7m.
The steepest hike - 3.38% - is in Newry, Mourne and Down Council, who described the move as "realistic."
Northern Ireland's rates bills are made up of two parts - one portion, the district rate, is set by councils.
The other portion, the regional rate, is set by Stormont.
The revenue collected, £1.2bn, is then split between Stormont and councils to help pay for public services like bin collections.
Household bills are calculated based on property value.
Belfast City Council rates are going up by 1.98% in a move it said would see the average domestic bill rise by "less than £10 per year."
However, greater pain could yet come for all Northern Ireland ratepayers.
In December, the Department of Finance mooted a possible 10% jump in Stormont's part of rates to help off-set budget pressures.
As was the case last year, this could be a decision soon facing the secretary of state in the absence of an Executive.
A 10% rise - if implemented - could add almost £100 to the average annual household bill.
The Northern Ireland Local Government Association (NILGA), the body which represents councils, said it supports the increases as councils provide "high quality services at affordable costs".
It also said an £18m Stormont fund to help seven councils, known as the Rates Support Grant, must be protected from cuts.
Derek McCallan, chief executive of NILGA, said that "over the past three years" all of the councils had been making efficiency savings, but that they are also "looking ahead".
"Each part of Northern Ireland in terms of its economic wealth is very different so they have to plan for the future, and in some cases, councils have been making those savings before 2018, in other words 2015/16, and in other cases they are doing it now," he said.
Mr McCallan said there was also a "backlog of a lot of services" that had been taken on by the councils such as planning and street parking.
"I know for example a bill in one district council area of over £2m to bring up to standard an off-street car park because of maintenance that was not done," he added.
"All of these legacies are being brought in to the cost bases and the cost transfers to the rates."
Here are the council domestic rates increases for the 2018/19 financial year:
Antrim and Newtownabbey - Two rates struck: 2.48% (Antrim) and 3% (Newtownabbey)
Ards and North Down - 2.96%
Armagh, Banbridge and Craigavon - 2.95%
Belfast - 1.98%
Causeway Coast and Glens - 0%
Derry and Strabane - 2.99%
Fermanagh and Omagh - 3%
Lisburn and Castlereagh - 2.91%
Mid and East Antrim - 2.32%
Mid Ulster - 2.98%
Newry, Mourne and Down - 3.38%