NI newspaper review: Break-up to end all break-ups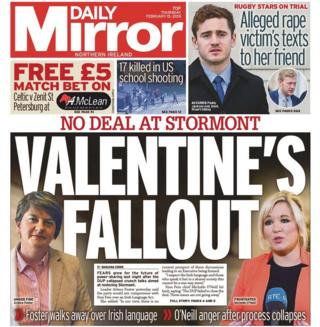 Has there ever been a St Valentine's Day break-up as bitter, twisted and public as this one?
As talks at Stormont between the Democratic Unionist Party (DUP) and Sinn Féin ended in acrimony, it was the perfect gift for headline writers.
The Daily Mirror takes full advantage, with its front page splashed with the words: "Valentine's fallout".
Such was the significance of the split that the News Letter takes the rare step of running a front-page editorial.
The divorce is a "grim milestone for Northern Ireland", it says, but a "necessary" one.
Sinn Féin has "greatly destabilised" the region and "fuelled grievance among young nationalists".
The newspaper accuses republicans of hypocrisy, saying: "[They] hound Arlene Foster no matter what she says, yet behave in a far more disrespectful way than Mrs Foster has ever done."
'Wield pay-cut stick'
According to the Belfast Telegraph, it is long beyond the time to "start slashing our politicians' pay".
It says the latest collapse of talks will do nothing but "increase public frustration with the political class".
"We do not elect politicians to simply engage in a stand-off, one which they manufactured through their toxic exchanges during last year's elections."
It asks the question on many people's lips: "Will [the Northern Ireland secretary] start to wield the long-promised stick of pay cuts?"
At the Irish News, political editor John Manley says there was always a "suspicion" that any deal between the two big parties "would be lopsided and offer more to unionists than nationalists".
But he adds that Mrs Foster's judgement and leadership will be questioned when the smoke clears.
"It appears no effort was made to prepare unionism for concessions and instead she created an Irish language bogeyman that may haunt the former first minister for years to come."
Peerage for Peter?
While Mr Manley says the DUP leader will become "increasingly irrelevant" as the Stormont saga rumbles on, he tells us that her predecessor could soon be back in the game.
Peter Robinson quit politics when he handed his dual role of party leader and first minister to Mrs Foster two years ago.
But he has been nominated for a seat in the House of Lords, the Irish News understands.
If successful, he would follow a well-trodden path - taken by previous unionist leaders David Trimble and the late Ian Paisley - from Stormont's blue benches to the red ones at Westminster.
'Narcissistic egos'
The rights and wrongs of self-styled paedophile hunters in Northern Ireland has been this week's other hot topic.
As BBC News NI's Kevin Magee revealed this week, there are increasing concerns about the methods that many of the 'hunting' groups use and their lack of accountability.
Allison Morris takes a look at some of the groups in her column in the Irish News, saying it is "easy to understand why, in principle, at least, some people would support the idea".
But she lays out some cases of so-called stings, explaining how one has led to a suicide and others to paramilitary-style assaults with hammers used as weapons.
And she concludes: "Sex offenders need to face due process.
"Vigilantes with narcissistic egos and questionable backgrounds are not and never have been the answer."
Pipers or Peppers?
Nothing quite beats the buzz there is when the chance comes along to see your favourite band play live.
So you can understand Duncan Robb's disbelief when he thought he had found out that tickets to the US garage-funk stars Red Hot Chili Peppers in Belfast would cost him a bargain £30.
As the Belfast Telegraph reports, little did he know that his Valentine's treat for his girlfriend Sarah would not be what it seemed.
The Chesterfield couple were just a few days away from their trip to Belfast when Duncan realised he "had a nightmare".
Instead of the Red Hot Chili Peppers, the pair were off to see the Red Hot Chili Pipers - a subtle difference but an all-important one.
But rather than Give It Away, the pair decided to stick with the trip, went Road Trippin' and got Dosed on the "bagpipes-with-attitude" rock covers and tartan kilts.
"I just had a laugh about it - what else was there to do?" smiles Duncan.
By The Way, it's all water Under The Bridge and Duncan and Sarah's Love Rollercoaster is still on track...