Third of NI students leave for universities elsewhere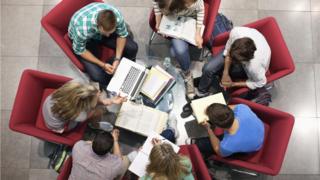 Over a third of students from Northern Ireland began their degree at a university elsewhere in the UK last year.
That is according to figures published by the Department for the Economy (DfE).
Of 14,035 students who started higher education in 2016-17, 65.5% stayed in Northern Ireland to study.
The most popular destinations for those who left to study were Scotland and the north-west of England.
John Moores University in Liverpool was the most popular for those studying elsewhere in the UK, with 1,775 Northern Irish students in 2016-17.
Other universities popular among Northern Ireland students were in Dundee, Glasgow, Edinburgh and the University of Northumbria.
Fall in part-time students
The most recent figures show that almost half of 18-year-olds in Northern Ireland enter higher education.
A total of 48.2% entered higher education in 2015-16, which contrasts with fewer than a third 25 years ago.
Over the past decade, there has been an increase of over 4% in the number of Northern Ireland students studying elsewhere in the UK.
Previous figures have shown that fewer than a third return home to work after graduation.
There was a slight decrease of just over 1% in the number of students in higher education in Northern Ireland in 2016-17.
There were 54,570 students enrolled in higher education in 2016-17, a drop of 675 on 2015-16.
There was a 2.6% decrease in first-year undergraduates in higher education, from 17,250 in 2015-16 to 16,800 last year.
That was mainly down to a significant fall in the numbers of students beginning part-time courses, as full-time enrolments rose by around 7%.
100 countries represented
The figures for individual subjects also show significant gender gaps in some areas.
Over four in five medical students are female, while they also account for over 70% of education enrolments.
In engineering and technology, over four in every five students are male, along with over three-quarters of computer science students.
While over four out of five students in higher education are from Northern Ireland, there are now students from more than 100 countries here.
Aside from the rest of the UK and the Republic of Ireland, there are significant numbers from China, Malaysia and the United States.