Peter Robinson asks DUP not to proceed with peerage nomination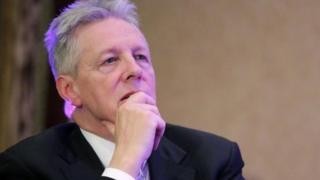 Former Democratic Unionist Party (DUP) leader, Peter Robinson, has said he asked the party not to proceed with a nomination for a peerage.
Mr Robinson posted a message on Facebook following what he described as "conflicting stories" in the print media.
He said party colleagues had raised the issue of membership of the House of Lords recently.
He said he asked them not to proceed at present "for a range of reasons".
"Chief among them is that I firmly believe that the party, who are in a confidence and supply agreement with the government (which is hugely beneficial for Northern Ireland), need dedicated working peers," he said.
"Also, given my business responsibilities and other projects in which I am presently involved including a new commitment I have just undertaken, I would be unable to fulfil this role, at this time, to the standard I believe it deserves.
"So, no mystery, no intrigue, just a pragmatic decision."
After the general election in June last year, the DUP signed a confidence and supply deal with the Conservatives which was accompanied by an extra £1bn in public spending for Northern Ireland.
Arlene Foster succeeded Mr Robinson as Northern Ireland's first minister in January 2016, after replacing him as DUP leader the previous month.
Mr Robinson also said that when he retired as DUP leader and Northern Ireland first minister he had been asked by Mrs Foster and deputy leader Nigel Dodds if the party could nominate him for a peerage.
"I thanked them for their thoughtful consideration but declined as I wanted a period to recover from my heart attack and take on new challenges," he said.
"Happily, I have had no re-occurrence of my heart problem though I am presently recuperating from a recent minor operation.
"As for my position as it relates to the DUP, I am absolutely, wholeheartedly and unalterably supportive of the party, Arlene and her leadership team."