Northern Ireland parking ticket figures revealed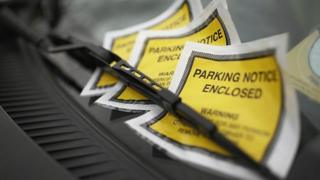 Traffic wardens issued more than 150,000 parking tickets in Northern Ireland last year, new Department for Infrastructure (DfI) figures show.
More than 94,000 penalty charge notices (PCNs) were issued in 2017 for on-street parking offences.
A further 57,000 were issued for off-street and bus lane offences.
The penalty charge for a parking ticket is £90, reduced to £45 if paid within 14 days of receiving the ticket.
'Sensible and fair enforcement'
Glyn Roberts of Retail NI said the number of tickets handed out last year was "outrageous".
"Retail NI has consistently hit out at the this over-zealous fining policy and the negative message it sends out to shoppers who use their cars to travel to town centres," he said.
"The only winners from this are the large out-of-town supermarkets, which have free car parking and no traffic attendants."
He said Retail NI "wants to see sensible and fair enforcement of car parking and bus lanes and an end to this current excessive strategy".
A DfI spokesperson said: "Enforcement of parking restrictions and bus lanes aims to reduce the number of illegally-parked vehicles and unauthorised vehicles using bus lanes during operational hours.
"This, in turn, will reduce traffic congestion, improve road safety, improves accessibility for all road users, including Blue Badge holders and improves bus journey times," the spokesperson added.
The department spokesperson said it is "important that appropriate action is taken to discourage those who park or use bus lanes illegally".
There were 94,452 PCNs issued in 2017 for on street parking offences - a rise of 11% on the previous year.
Almost 50% ( 41,557) of all on-street tickets were issued in Belfast, with a further 7,057 issued in Newry and 6,183 issued in Londonderry.
There were no on street PCNs issued in eight Northern Ireland towns - Ahoghill, Aughnacloy, Ballykelly, Castlewellan, Cullybackey, Dromore (Co Tyrone), Newtownstewart and Portglenone.
The number of PCNs for off-street parking increased by 4% last year, while fines issued for bus lane offences dropped by 25% last year.
The DfI figures show three quarters of the 20,807 PCNs issued for bus lane offences were handed out in just three Belfast locations - Donegall Square East, Great Victoria Street and College Square East.