Oliver McAfee's family travel to Israel to help search
By Michael Fitzpatrick
BBC News NI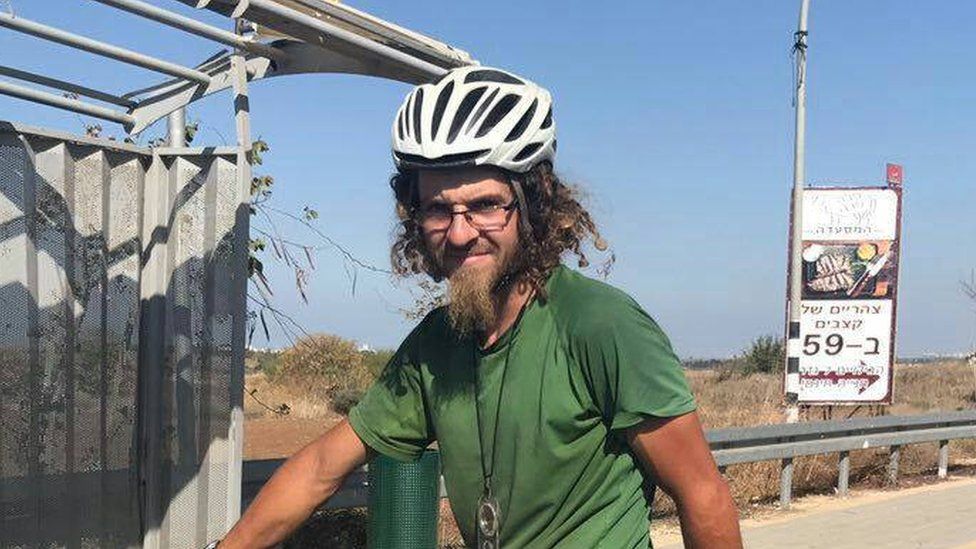 The family of a County Down man who has been missing in Israel for almost three months are travelling to the country to raise awareness of the search for him.
Oliver McAfee, 29, from Dromore was last seen cycling in the north of Israel on 21 November last year.
His brother and his uncle are travelling to the country on Friday to meet police, search teams, the British embassy and the media.
Matthew McAfee said his brother's disappearance is quite unusual.
"Search teams have been great. They've gone above and beyond what they should be doing really, but as to what they've found - apart from his belongings they haven't found any information of where he might be or what has possibly happened.
"Things have been quiet now for the last four weeks. We haven't really had any other leads or information coming in, so we're going out to try and put the pressure on a wee bit and get things moving again", he said.
Oliver McAfee was last seen joining a popular walking and cycling route known as the 'Israel trail' in the north of the country.
When he failed to return home on a pre-booked flight in December, his family alerted the authorities.
The police said he travelled along the trail through Jerusalem and on to an area close to the southern town of Mitzpe Ramon in the Negev Desert, where his bicycle and other items were discovered.
"There was a notebook which is of particular interest and hopefully a family member can see something in that which might give us some idea of what has happened," said Mr McAfee.
"The fact they haven't seen anything suggests that he is still alive, which is obviously what we want to hear."
He said his brother may no longer be in Israel.
"Obviously his passport hasn't left the country, but there is a possibility that he has crossed borders into Jordan or the West Bank. So we are going to search those possibilities when we are out there," he said.
Search teams also found a number of pieces of paper with words written from the Bible in Oliver McAfee's handwriting.
There has been some speculation that he may have suffered a condition known as 'Jerusalem syndrome' where visitors to the city experience delusions which are thought to be linked to their personal religious belief.
His sister-in-law, Angela McAfee, said the authorities are not giving the theory much weight.
"The first we heard of that theory was whenever we saw it in the Times of Israel newspaper and it hasn't actually been discussed as a possible theory.
"I mean, anything is possible at the minute but it's not something that we're really standing on," she said.
With no confirmed sightings of Oliver in almost three months, his family said the lack of a breakthrough is taking its toll.
"It's just so difficult. It's a long time - I think it's nearly 90 days now. Just not knowing anything, it's really hard to deal with," said Ms McAfee.
Mr McAfee's family and friends have launched a Facebook page to try to find him.