Karen Bradley will consider all options after talks failure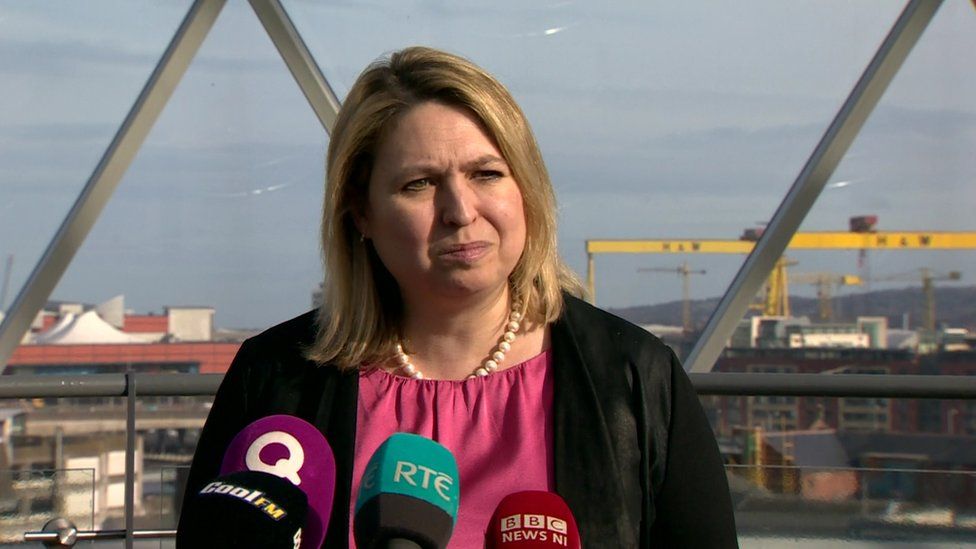 The Northern Ireland Secretary has said she will consider all options over the weekend following the collapse of power-sharing talks.
Karen Bradley is due to update MPs at Westminster on Tuesday.
Speaking during a walkabout in Belfast, she said it had been a difficult week but she believed the political will was still there to restore devolution.
DUP leader Arlene Foster said talks collapsed because of disagreement with Sinn Féin over the Irish language.
She said Sinn Féin warned the DUP to "close the deal before those opposed to it could unpick" it.
However, Mrs Foster has said no draft agreement was in place.
"I regret that we didn't reach an agreement because they were insisting on having this free-standing Irish language act," she said.
During Mrs Bradley's walkabout on Friday, she was asked if there was a draft deal between Sinn Féin and the DUP, but she replied that she was not involved in their negotiations.
On Thursday night, DUP MP Gregory Campbell rejected any suggestion that DUP party leader Arlene Foster was unable to sell a power-sharing deal with Sinn Féin to her party.
Speaking to the BBC's The View programme, the DUP MP said there was no threat to Mrs Foster's leadership.
Mr Campbell said: "Arlene Foster has no difficulty within the party, didn't have any difficulty last weekend, and won't have any difficulty this weekend.
"Any nonsense that people are peddling, that calls into question Arlene Foster's leadership - you really need to get a grip," he added.
Ulster Unionist leader Robin Swann said there was an easy way for Sinn Féin and the DUP "to solve the mystery of what they did agree or didn't agree".
"Whether they called it an accommodation, a draft agreement, a heads of agreement or some other type of a deal, it's time for both parties to publish them and publish them now," he said.