NI newspaper review: Political fallout and dissident murder probe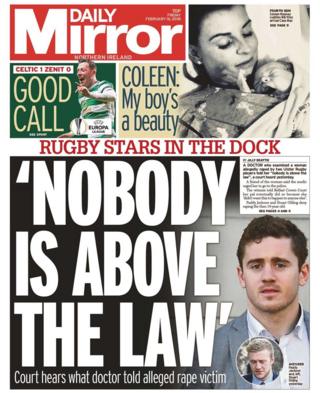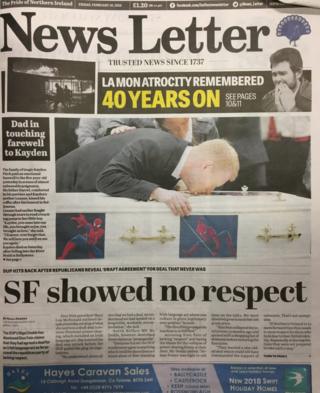 Political fallout between Northern Ireland's two-largest parties continues to make the headlines on Friday.
The front page of the Irish news reads: "DUP rejects Sinn Féin claims over doomed Stormont deal".
Meanwhile the News Letter reads: "Sinn Féin showed no respect".
Both papers outline how the unionist party has dismissed claims from Sinn Féin that a power-sharing deal had been on the table last week.
On Thursday, Sinn Féin President, Mary Lou McDonald said the agreement included a solution over the issue of Irish language.
She said it was had three separate pieces of legislation which would see the implementation of an Irish language act, an Ulster Scots act and an overarching respecting language and diversity act.
"The DUP failed to close the deal and went on to collapse the talks process," she said.
'Propaganda'
The DUP has denied claims that any sort of blueprint agreement had been made.
In the News Letter, North Belfast MP Nigel Dodds calls Sinn Féin's comments as "propaganda".
"Everyone knows the DUP would never agree to anything which could be described as a stand-alone or free-standing Irish language act where one culture is given supremacy," he said.
"The Sinn Féin propaganda machine is in full flow.
"Arlene Foster was right to call time on the talks. We want devolved government but not at any cost."
The talks process collapsed on Wednesday following an announcement from the DUP that "significant gaps" remained in the discussions.
The parties have been locked in negotiations in a bid to end the 13-month stalemate at Stormont.
Loyalist blogger controversy
Continuing with political coverage - the Irish News reports that a row has begun as loyalist blogger Jamie Bryson has been called to give evidence at the House of Commons next week.
He has been invited to speak at a Northern Ireland Affairs Committee at Portcullis House on the issue of "Devolution and democracy in Northern Ireland - dealing with the deficit".
An invite has also been extended to the SDLP leader Colum Eastwood, Alliance party leader Naomi Long and former justice minister Claire Sugden.
Labour MP Conor McGinn, who represents St Helens North but was born in south Armagh, told the Irish News that he questioned why Mr Bryson had been called.
"I would be happy to meet with him individually and am interested to hear his views, but I cannot objectively see why he would be called to give formal evidence to a House of Commons' committee inquiry on the governance of Northern Ireland," he said.
"His appearance will undoubtedly lead to questions about the role of the committee at a very sensitive and important time, and highlight the fact that its make-up is not representative of the whole community in Northern Ireland."
Parking fines fears
The Belfast Telegraph reports about small business owners' anguish, after it was revealed that more than 400 parking tickets are issued per day in Northern Ireland.
Figures showed that in 2017, a total of 131,916 on and off street penalties were issued, with a further 20,807 penalty charge notices given out for bus lane offences.
Retail NI's Glyn Roberts told the paper the statistics were "staggering" and described the total number of tickets being issued as "outrageous".
"Retail NI has consistently hit out at this over-zealous fining policy and the negative message it sends out to shoppers who use their cars to travel to town centres," he said.
"The only winners are the large out-of-town supermarkets which have free car parking and no traffic attendants."
A spokesperson for the Department of Infrastructure (DfI) said: "It's important that appropriate action is taken to discourage those who park or use bus lanes illegally."
'Until we see you again'
The Belfast Telegraph and News Letter both report on the funeral of a five-year-old who died after falling into a river in County Antrim.
Kayden Fleck was recovered from the Braid River, Ballymena, on Saturday afternoon in a major multi-agency rescue operation. He later died in hospital.
The young boy's coffin featured pictures of his favourite superhero, Spiderman.
Kayden's mother read a poem at the ceremony which was attended by more than 500 people.
"Kayden, you came into our life, you brought us joy, you brought us love," she said.
"I'll never, ever forget that. We will love you until we see you again."
Dissident link
Police say a man who was shot dead on Tuesday evening in west Belfast, may have been murdered by dissidents, reports the Daily Mirror.
On Thursday, Det Chief Insp Geoff Boyce said it was one line of inquiry into the shotgun killing of Raymond Johnston.
The 28-year-old had been making pancakes for Pancake Tuesday when the attack happened at a house on Glenbawn Avenue in Poleglass.
"It is too early to speculate which group, but those are the type of individuals we believe to have been involved," said DCI Boyce.
He said there was CCTV from outside the house which had captured two suspects leaving the scene, and appealed for anyone with information to come forward.