Alliance pulls out of hearing over Jamie Bryson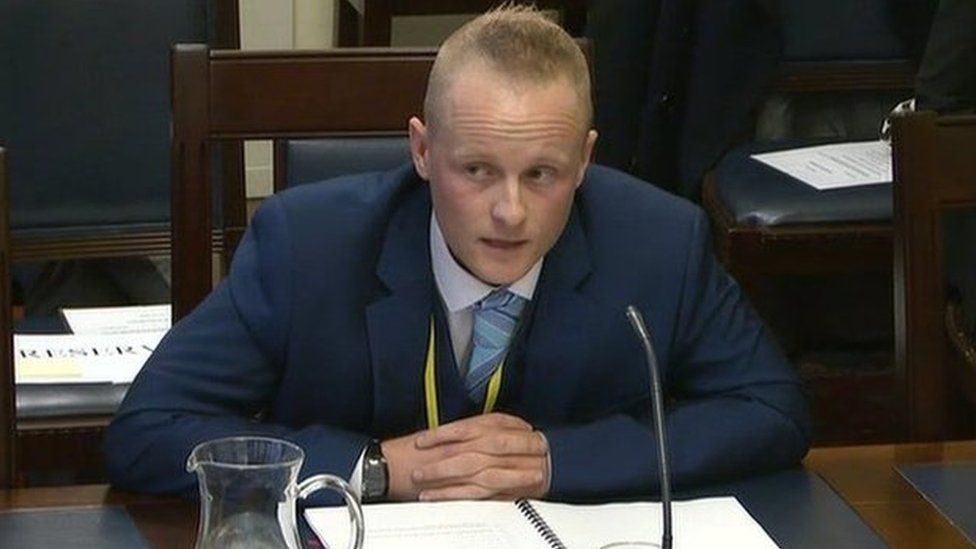 The Alliance Party has refused to appear before a Westminster committee because the loyalist blogger Jamie Bryson is also giving evidence.
Both Alliance leader Naomi Long and Mr Bryson were on a list of witnesses invited to give oral evidence to the Northern Ireland Affairs Committee.
The committee is examining what it described as a "deficit" of devolution and democracy in Northern Ireland.
Mrs Long claimed Mr Bryson's invitation had damaged the committee's reputation.
The former MP for East Belfast has written to the chair of the committee, Dr Andrew Murrison, saying she will not "add to the circus" of the blogger's appearance at Westminster.
"As someone who is a former member of the committee and who has the utmost respect for the serious and detailed work which the committee undertakes as part of its inquiries, I am genuinely at a loss as to why a select committee of such standing would allow itself and its reputation to be diminished by inviting this individual to attend and give oral evidence," her letter states.
Mrs Long also warned the committee that it was in danger of opening itself to "public ridicule".
Mr Bryson said the "contrived controversy" surrounding his appearance at the committee was "a fig leaf".
"The real issue here is an intolerance of differing viewpoints and the fury that grassroots loyalism would dare to engage in an open inquiry," he added.
Widespread street demonstrations were organised when Belfast City Council voted to change its long-standing policy of flying the flag every day of the year at Belfast City Hall.
The Alliance Party, which held the balance of power at the council, was criticised by unionist parties for supporting a change to fly the flag on designated days instead of all year round.
Ulster Unionist MLA Doug Beattie said the Alliance decision to withdraw from the committee hearing was "disappointing".
"If we censored members of Sinn Féin, or the PUP or anyone else we would be accused - and no doubt by Alliance - of trying to stifle opinions no matter how difficult they are to hear. Yet Jamie Bryson is somehow seen as fair game and I find this unfair," he commented.
The SDLP has confirmed that its leader, Colum Eastwood, will still be appearing before the committee next week.
"The SDLP fully understands that Jamie Bryson is a dangerous eejit but we believe it is better to robustly take on and take apart his arguments than to allow him free reign and an open microphone," a spokesperson said.
Mr Eastwood would be taking the opportunity to oppose an increased role for the British government in Northern Ireland and to defend the Good Friday Agreement.
Sinn Féin has yet to comment on Mr Bryson's appearance, but it recently criticised the Westminster committee as representing a "thinly-veiled attack" on the Good Friday Agreement institutions.
"This committee is a pro-unionist talking shop dominated by the DUP and their allies at Westminster," said West Belfast MP Paul Maskey.