County Armagh farmer set to join Irish senate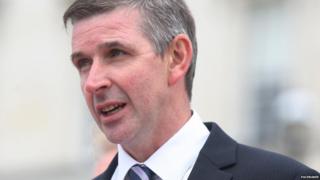 A County Armagh farmer looks set to become the latest person from NI to sit in the Seanad ( Irish senate).
Ian Marshall is a former president of the Ulster Farmers' Union (UFU) who owns a farm near Markethill.
He has also worked with Queen's University Belfast as business development manager.
Taoiseach (Irish Prime Minister) Leo Varadkar nominated him for the seat left vacant by the resignation of Labour Senator Denis Landy.
Senator Landy's replacement will be elected by current members of the Dáil (lower house of the Irish parliament) and the sitting senators.
Mr Marshall confirmed his willingness to take up the position during a meeting with Mr Varadkar and Foreign Affairs Minister, Simon Coveney.
Unionist perspective
It is understood the taoiseach is keen to introduce a unionist perspective to discussion and debate in the Seanad.
Mr Marshall has also consistently opposed Brexit, insisting there was "no compelling argument" for the UK to leave the European Union and that Northern Ireland's farmers would be better served remaining inside the European Union.
He told the BBC he was delighted to have been nominated.
"This is a great honour," he said. "If elected, I will represent the views and concerns of people across the island of Ireland.
"I will, naturally, bring with me a particular knowledge of what's most important to those of us living north of the border. But these are tumultuous times for people in every corner of Ireland as we grapple with the Brexit dilemma."
'Token' northerner
He acknowledged that the absence of an executive at Stormont could only add to a sense of uncertainty north and south.
Mr Marshall said: 'I have been reassured that I will not be a "token" northerner. I understand the symbolism of having someone perceived to be from a unionist background sitting in the Seanad. But, if elected, I guarantee I will be playing a full role as a Senator.
"Indeed, I would like to thank my employers and colleagues at Queen's for the understanding and support they've already shown in order to accommodate my requirements, should I be elected, in terms of time away from the office, etc."
Previous northern senators have included writer and broadcaster Sam McAughtry, and Gordon Wilson, whose daughter Marie was killed in the Enniskillen Remembrance Sunday bombing.