Stormont deadlock: Sinn Féin to meet Leo Varadkar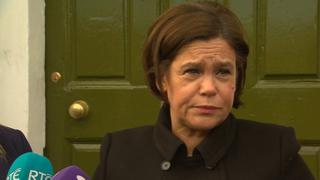 Sinn Féin is due to hold a meeting with the taoiseach (Irish prime minister) and tánaiste (Irish deputy prime minister) in Dublin on Monday.
Party leader Mary Lou McDonald has said she will tell the British and Irish governments this week that "direct rule from London is not an option".
Talks to restore the Stormont assembly collapsed on Wednesday.
Both Sinn Féin and the DUP had engaged in negotiations in a bid to end a 13-month impasse at Stormont.
Ms McDonald and Sinn Féin vice-president Michelle O'Neill are expected to meet Leo Varadkar and Simon Coveney in Dublin.
Sinn Féin is expected to meet the prime minister Theresa May in London later in the week.
Ms McDonald has said the party still believes a restoration of devolution is possible and will be calling on the two governments to convene the British-Irish Intergovernmental Conference to avoid a prolonged stalemate.
She has also appealed to the DUP to return to the talks.
"Michelle and I will be telling the taoiseach and the British Prime Minister it is the responsibility of the two governments to implement the agreements on legacy and an Irish language act and to provide for marriage equality," Ms McDonald said.
"We will also make it clear to both government that a return to direct rule from London is not an option.
"Sinn Féin remains committed to working for an agreement. However, any return to talks must be progressive and ultimately they must deliver for citizens."
Sinn Féin has accused the DUP of collapsing the talks and party leader Ms McDonald has claimed a draft deal was in place earlier this month, which included an Irish language act, an Ulster Scots act and a respecting language and diversity act.
She said Sinn Féin warned the DUP to "close the deal before those opposed to it could unpick" it.
DUP leader Arlene Foster said last week there was "no current prospect" of a deal to restore power sharing in Northern Ireland.
She said talks failed due to disagreements with Sinn Féin about legislation for the Irish language.
Mrs Foster also said no draft agreement was in place.
"I regret that we didn't reach an agreement because they were insisting on having this free-standing Irish language act," she said.