Stormont deadlock: NI secretary commits on budget clarity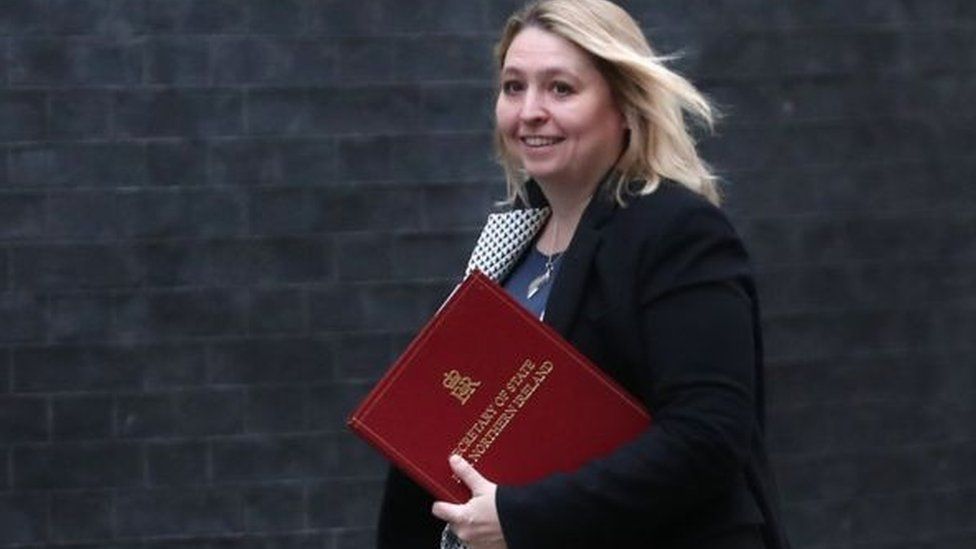 The Northern Ireland secretary has committed to providing budget clarity for Northern Ireland's public services.
Updating MPs after power-sharing talks collapsed last week. Karen Bradley declined to immediately re-impose direct rule from Westminster.
She raised the prospect of calling another Assembly election.
And she said if Northern Ireland's ban on same-sex marriage was raised at Westminster, MPs would be able to vote on whether to change the law.
Northern Ireland is the only part of the UK where same-sex marriage remains illegal.
Mrs Bradley replied: "In accordance with the Belfast Agreement, this is a devolved matter which should be addressed in the NI Assembly; but the power of the Westminster Parliament to legislate remains unaffected.
"If this issue were to be raised in Westminster, the government's policy is to allow a free vote on matters of conscience such as equal marriage."
Disagreements over same-sex marriage and Irish language legislation are two of the main issues preventing the restoration of devolution.
Stormont's power-sharing executive collapsed 13 months ago in a bitter row over a botched green energy scheme.
Talks between the DUP and Sinn Féin collapsed on Valentine's Day, and the two sides blamed each other for an impasse over a proposed Irish language act.
The parties still disagree on whether or not a draft agreement was on the table before the talks broke down.
Sinn Féin's new leader, Mary Lou McDonald, has repeated her party's position that direct rule from Westminster is not an option for Northern Ireland in the absence of power sharing.
Sinn Féin has accused the DUP of collapsing the talks and Ms McDonald has claimed a draft deal was in place earlier this month, which included an Irish language act, an Ulster Scots act and a respecting language and diversity act.
The Conservative government relies on the support of the DUP's 10 MPs to stay in power at Westminster.
Addressing MPs on Tuesday, Mrs Bradley said: "I intend to take steps to provide clarity on the budget and will update the House (of Commons) as soon as possible.
"This is clearly not where I want to be but in the absence of an executive I have no other choice."
DUP MP Nigel Dodds said it was a "dereliction of duty" to continue without a spending plan or ministers to make decisions.
But Mrs Bradley said the government would not shirk its responsibilities.
"Things in Northern Ireland cannot simply remain in a state of limbo," she said. "Challenging decisions will have to be taken."
Speaking after a meeting on Monday with Taoiseach (Irish prime minister) Leo Varadkar and Tánaiste (Irish deputy prime minister) Simon Coveney in Dublin, Ms McDonald called for decisive action from the British and Irish governments.
The prime minister and Mr Varadkar later spoke by telephone.
A Downing Street spokesperson said Theresa May and Mr Varadkar talked about "the recent phase of political talks in Northern Ireland and of their disappointment that an agreement had not yet been reached to restore an executive".
Mr Varadkar said he emphasised the Irish government's "full commitment to the Good Friday Agreement, and its determination to secure the effective operation of all its institutions".
"School principals, hospital managers and infrastructure planners have been in limbo for months unsure of budgets and unable to get ministerial direction," she said.
"I am not prepared to allow this to continue."
Mrs Foster said she would be meeting the prime minister later this week, where she would "affirm our commitment to devolution but not at any price".
Sinn Féin is also expected to meet Theresa May in London later in the week.
Ms McDonald has said the party still believes a restoration of devolution is possible and said the two governments should urgently convene the British-Irish Intergovernmental Conference to avoid a prolonged stalemate.
She also appealed to the DUP to return to the talks.