NI newspaper review: Inside decommissioning and sex abuse shame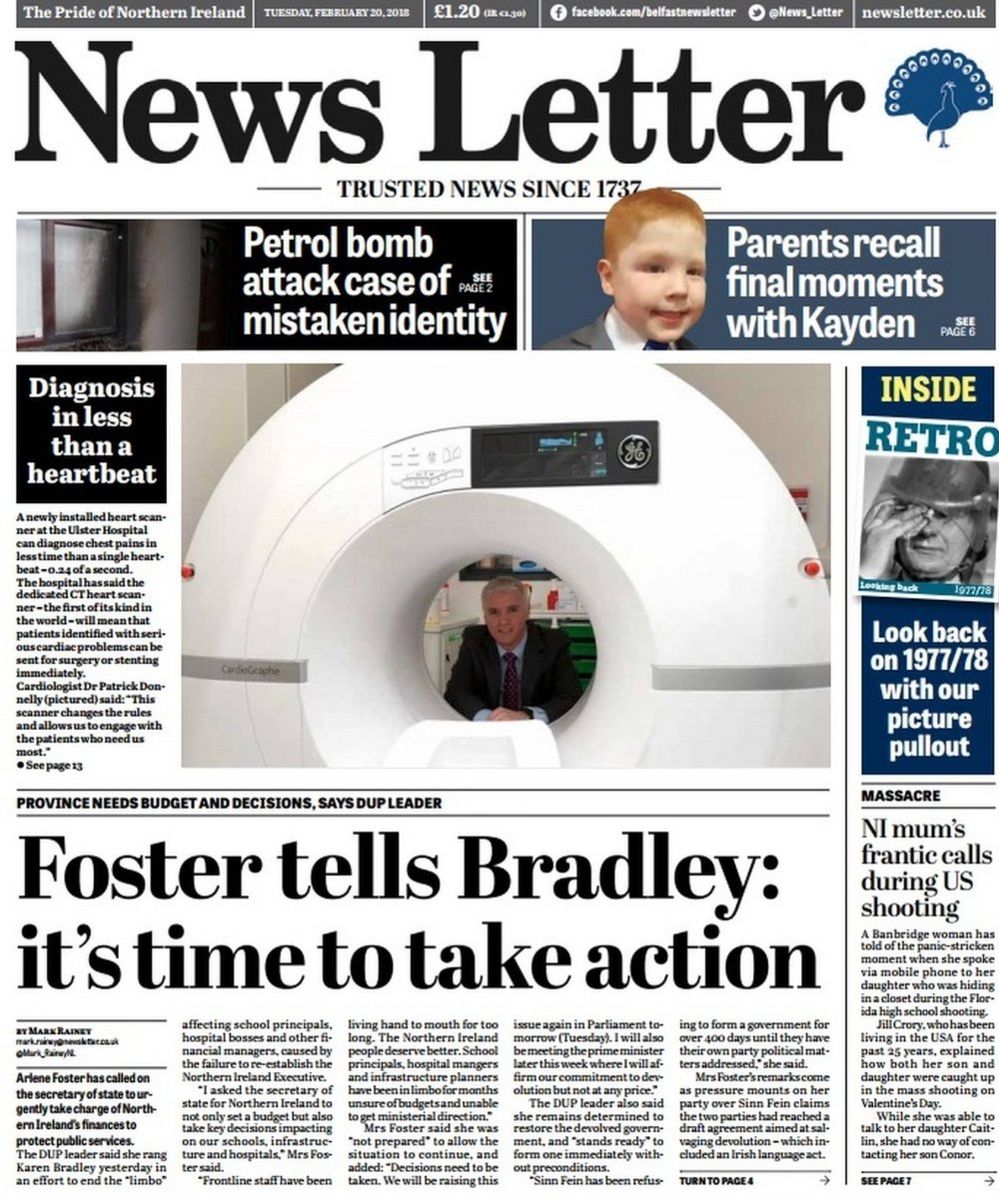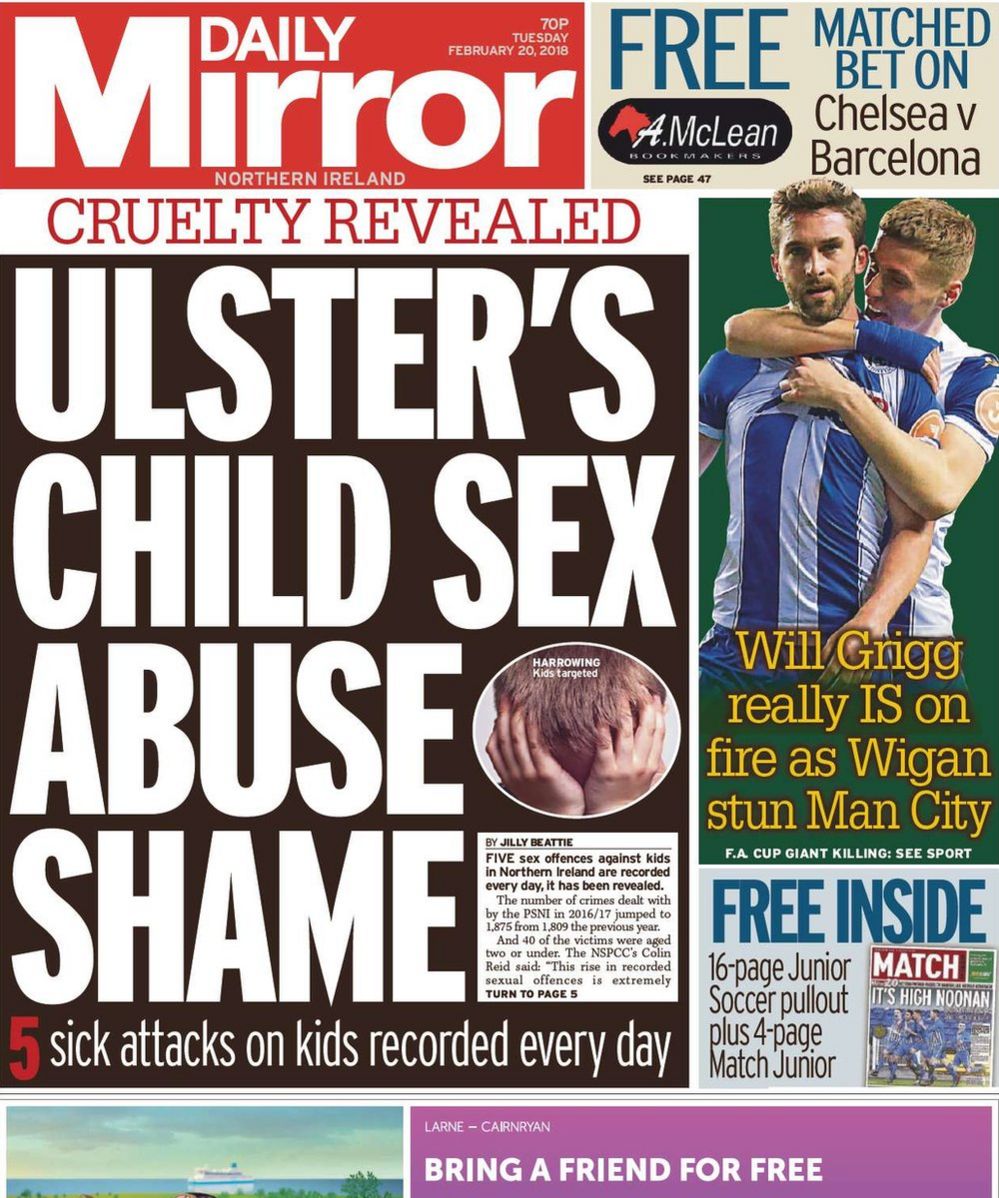 From iconic images of masked men with guns to a disabled man beaten in his own home, Tuesday's front pages offer a fair share of striking images and headlines.
The paper reports that five sex offences against kids in Northern Ireland are recorded every day.
The NSPCC says it believes the increase in offences being recorded could be down to factors such as the police improving their recording methods, survivors feeling more confident disclosing abuse and online groomers becoming a growing problem.
"This rise in recorded sexual offences is extremely concerning," said Colin Reid from the NSPCC.
Across six pages of special reports, the newspaper's security correspondent Allison Morris peels back the curtain of decommissioning and offers an inside account of how the "secret process" worked when the Official IRA put its arms out of use in 2010.
"While the decommissioning process was not perfect and some weapons did evade destruction, thousands of guns were removed from circulation during that remarkable time, undoubtedly saving lives," she writes.
The 47-year-old from Strabane told the paper that he's too afraid to stay in his house after the attack, in which he had his trousers set on fire.
"Have you ever been held down, tied up and set on fire? It was terrifying. I couldn't escape," he said.
"I am so sore and I am scared. I don't want to live here anymore. I want to move," he added.
It reports that administrators are believed to have been appointed to a number of companies in the group, which employs 500 people.
One employee told the paper that while staff had yet to be informed officially, she believed her job and others are under threat.
Meanwhile, the News Letter's front page turns its view across the Atlantic to last week's school shooting in Florida with the headline: "NI mum's frantic calls during US school shooting".
It reports that a Banbridge woman, based in the US for the last 25 years, spoke on the phone to her daughter who was hiding in a closet during the attack.
Both Jill Crory's daughter and son were on campus when the attack happened at Marjory Stoneman Douglas High School, killing 17 people.
"My son Conor, who I knew would be in the Freshman building, didn't have his phone with him so I started trying to reach my daughter Caitlin," she told the News Letter.
"She finally picked the phone up and whispered, 'Mom, I'm in a closet, there's an active shooter, it's a code red, I can't talk', then hung up."
Mrs Crory added that while there was relief that both her son and daughter were safe, there was also incredible pain in knowing what her children and other children had gone through.
The News Letter reports that Mrs Foster wants the secretary of state to take charge of Northern Ireland's finances in an effort to end the "limbo" felt by school principals, hospital bosses and other financial managers.
The Daily Mirror has a page of stories dedicated to the "power-sharing stalemate" including a letter to Labour Party leader Jeremy Corbyn warning of the "potentially dire consequences" of a hard Brexit for Northern Ireland.
The letter was written by SDLP leader Colum Eastwood, who said that a hard Brexit "carries with it the potential to dismantle the architecture of our peace process".
The paper says that alcohol is made available to elected representatives and other invitees in the lord mayor's parlour at City Hall after meetings of full council.
It has obtained figures for how much was spent on alcohol for these meetings over the last seven years and reveals that the largest amount - £507.77 - was spent during the tenure of Sinn Féin's Arder Carson as lord mayor in 2015-16.
That compares to the smallest amount in that period, £208.93, spent by his party colleague Niall Ó Donnghaile during his stint as lord mayor in 2011-12.