Trio in court on paedophile hunter charges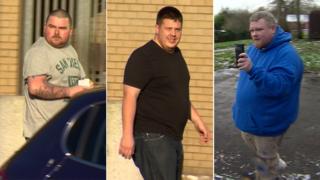 Three men have appeared in court facing a total of 56 charges in relation to so-called paedophile hunting groups.
Among the charges they face are assault, unlawful imprisonment and intimidation. All three were released on bail.
They were banned from using any social media platforms, dating apps or mobile phones with internet access.
They were also told to stay away from anyone associated with paedophile hunter groups.
The men - George Keenan, from Glenwood Court, Dunmurry, Richard Curtis, of Albert Road, Carrickfergus, and Tim Heron, of Cloverhill Vale in Bangor - will appear in court again on 17 April.
A police sergeant told Belfast Magistrates' Court: "We don't believe that they have been assisting police because they have been told continuously to desist from this activity.
"They have chosen to carry on and detain individuals and carry out their own investigations."
Journalist incident
Some of the alleged offences relate to an incident on Belfast's Botanic Avenue on 6 February.
The trio are accused of attempting unlawfully by force, threats or menaces to cause BBC journalist Kevin Magee to refrain from broadcasting an interview on television, as well as disorderly behaviour.
Mr Keenan and Mr Heron are also accused of the obstruction of a road.
Mr Keenan also faces charges dating from September last year of unlawful imprisonment, assault, detaining people against their will and forcing people to leave homes.
He is also accused of failing to give information to police.
Mr Curtis is accused of using disorderly behaviour in Banbridge, County Down, imprisonment and assault.
He is also charged with attempting to cause a man to leave his home.
Mr Heron is accused of unlawfully imprisoning and assaulting a man and attempting to threaten him into leaving his home.
'Paedophile hunting manual'
He is also alleged to have accused a person of being a "paedo" in front of a crowd in Banbridge with the intention of breaching the peace.
A defence lawyer suggested police had issued the group with a "paedophile hunting manual" helping them to gather the best evidence they can.
The officer said police were willing to take any information in relation to any crime but it was for them to take action.
"We would never encourage any group to confront or to unlawfully detain and put themselves in danger or unlawfully imprison individuals," he added.
"Report it to the police and allow us as the competent authority to carry out investigations."
The lawyer said the group had contacted police on 100 separate occasions with evidence.