Lecturers on strike at Queen's and Ulster universities
By Robbie Meredith
BBC News NI Education Correspondent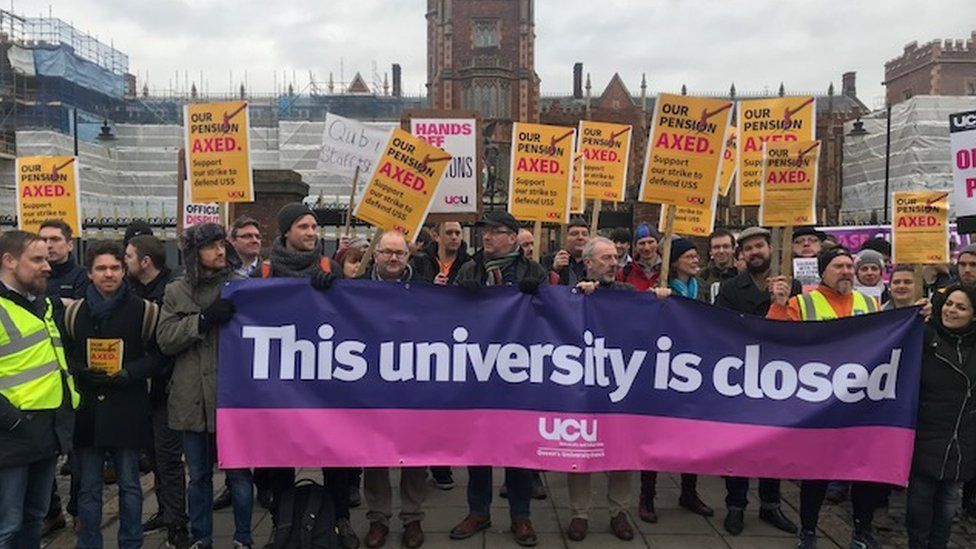 Classes at Queen's University (QUB) and Ulster University (UU) have been facing substantial disruption due to strike action from lecturers.
The University and College Union (UCU) is taking the action over a dispute over changes to staff pensions.
Universities UK said that without pension reform universities would have to make cuts to teaching, research and staff.
The strike is the most substantial ever taken by lecturers in higher education.
Speaking on the picket line, Queen's lecturer Dr Fabian Schuppert said the university "was not broke" and all they were asking for was a "decent pension".
"We are not asking for anything excessive," he said.
"All we are asking is treat us with respect, recognise the work we do and give us a decent pension in the end."
Stephen McCrystall, president of Queen's Students' Union, said the union was supporting the strike and the feedback from students was "overwhelmingly supportive".
"We know academic and non-academic staff love teaching and being in the classroom, and they have not taken this decision to strike lightly but it's a last resort," he said.
"The proposed cuts to their pensions are simply not acceptable to staff or students."
The UCU has about 600 members at UU and more than 900 members at QUB, the majority of whom are academics.
They have been instructed not to work or cross picket lines.
The members plan to do the same next week - on 26, 27 and 28 February.
Further strike action is planned for nine days at UU and eight days at QUB during the first two weeks of March.
Staff are angry at plans to change the Universities Superannuation Scheme (USS) from a defined benefit scheme - where they would have a guaranteed income in retirement - to a defined contribution scheme, where their pensions would be subject to changes in the investment markets.
It is claimed by UCU that the changes could cost a lecturer £10,000 a year on average over the course of their retirement.
Ulster University has written to its students saying it is "working to minimise the impact of any disruption".
"The nature of this strike means that we cannot know with certainty if a class will go ahead or be disrupted.
"We encourage students to attend for classes as scheduled unless a lecturer, course director of member of faculty staff explains that the class cannot take place."
The UCU official in Northern Ireland, Katharine Clarke, said UCU members had been left with no alternative but to take action.
"Clearly the managements of our universities are unconcerned about their staff facing poverty in retirement after a lifetime of dedicated service," she said.
"This is totally unacceptable and has left our members with no alternative but to strike to defend the pensions they have paid into over the course of their employment."
However, the strike action has been criticised by the umbrella organisation for higher education, Universities UK.
Without reform, universities would have to cut spending on teaching, research, and student support so more money could be diverted to address rising pension costs, it said.
"The Universities Superannuation Scheme, like many schemes, has been affected by difficult economic conditions," Universities UK's statement added.
"The cost of future pensions has risen by one third in the last three years, and the scheme has a deficit of £6.1bn, which by law must be reduced.
"Without reform, employers and staff would be forced to increase pension contributions to unmanageable levels - an extra £1bn every year."
The union has previously said it has a mandate for further strikes until July, meaning that end of year exams could be affected.