NI hospital waiting list target not met
By Catherine Smyth
BBC News NI, health producer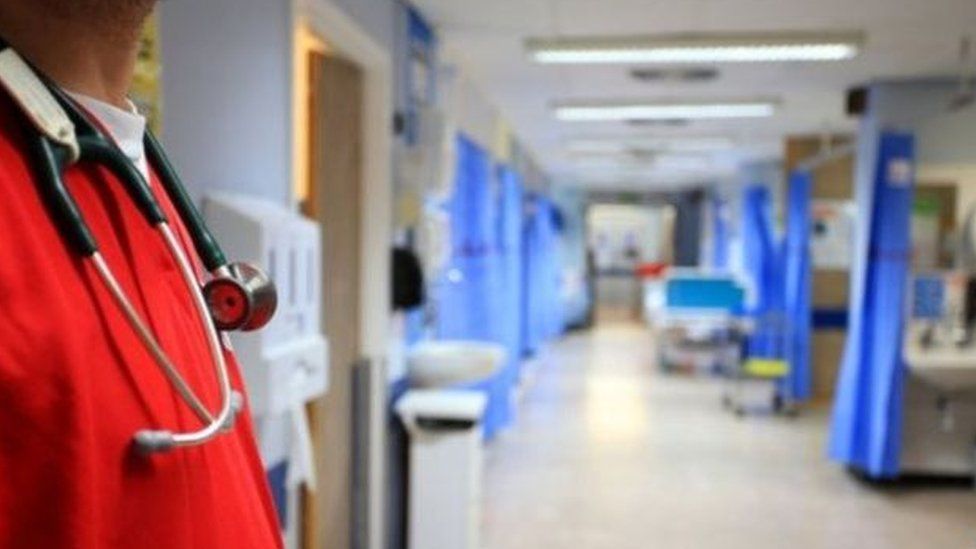 People in Northern Ireland are still waiting longer than they should for a first outpatient appointment at a hospital, figures show.
However, Department of Health figures from the last quarter show a slight improvement.
At the end of December last year, 271, 553 patients were waiting for a first hospital appointment with a consultant.
That is down 0.4% on the department's last quarterly figures but 10% more on those from the same period last year.
'Current unacceptable waiting times'
Meanwhile, a progress report on hospital waiting lists shows that a key commitment has not been met.
The Department of Health's aim that no-one should wait more than one year for a first outpatient appointment was made under the Elective Care Plan.
The update gives a candid assessment of budgetary challenges that it says are "inextricably linked to current unacceptable waiting times".
For each region there are strict targets that local services are expected to meet across the UK.
But what are the chances of being seen in time where you live? Use our interactive tracker to find out:
The progress report outlines a number of initiatives, including plans for elective care centres for carrying out assessments and routine surgery.
The Elective Care Plan set out six major commitments - the first of which was that by March 2018 no-one should wait more than 52 weeks for a first outpatient appointment or day-case treatment.
This commitment has not been met.
The report says that since 2014-2015, the scale of the gap between capacity and patient demand, coupled with limited extra money, has "resulted in a continued increase in elective waiting times".
Each year, that demand exceeds capacity by about 60,000 assessments and 35,000 treatments.
Other commitments in the plan included increasing capacity in primary care - meaning fewer patients would have to go into hospital in the first place.
In this area, a number of initiatives are being piloted, including the development of so-called "mega clinics" for patients with spinal pain.
To date, five of these have been held, at which about 830 patients have been seen.
Further clinics have been planned and the approach may be rolled out in other areas.
The report also highlights the planned future role of elective care centres which will be delivered in a number of regional centres across Northern Ireland.
It says while some patients may be asked to travel further for treatment, they will benefit from being seen and treated more quickly.
It is intended that these will be up and running by December 2020.
'Bengoa principles to a T'
So what is being done to address the hospital waiting list figures?
Mega clinics are being piloted
Five have taken place since last July over weekend hours
As a result, 830 patients who wouldn't otherwise have been seen have now been assessed with about 90% removed from the waiting list
Around 10% actually required surgery.
Niall Eames, the clinical director of orthopaedics at Musgrave Park Hospital, said the clinics are working as the patients are being seen under one roof by a group of specialists, which is more efficient.
"Our waiting list figures are down," he said.
"In five weekends we have managed to get through 830 patients and by 3 March we aim to have seen our 1,000th patient. That is progress."
Bringing the patient to a range of specialists under one roof is effectively transformation as spelt out in the Bengoa health review.
According to Mr Eames, it's Bengoa working.
"It is exactly right. This clinic fulfils the Bengoa principles to a T - it is exactly a systems change rather than a structural change," he said.
"So with the managers, the health board, the commissioners, the consultants, the patient groups, physiotherapists and specialist GPs all under one roof, seeing the patient in one stop, they can be moved off the waiting lists quicker."