NI newspaper review: 'Outcry' over IRA office for MP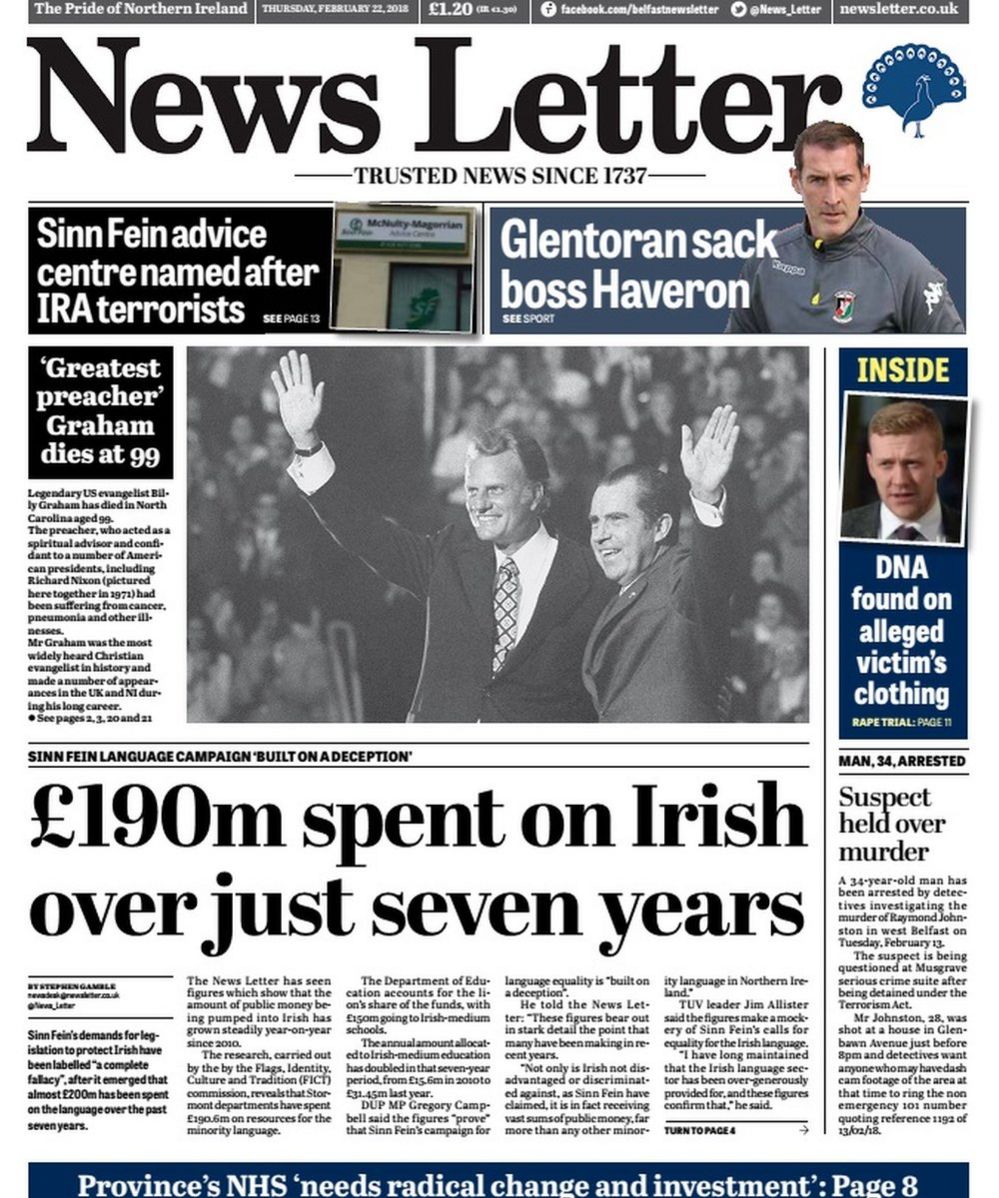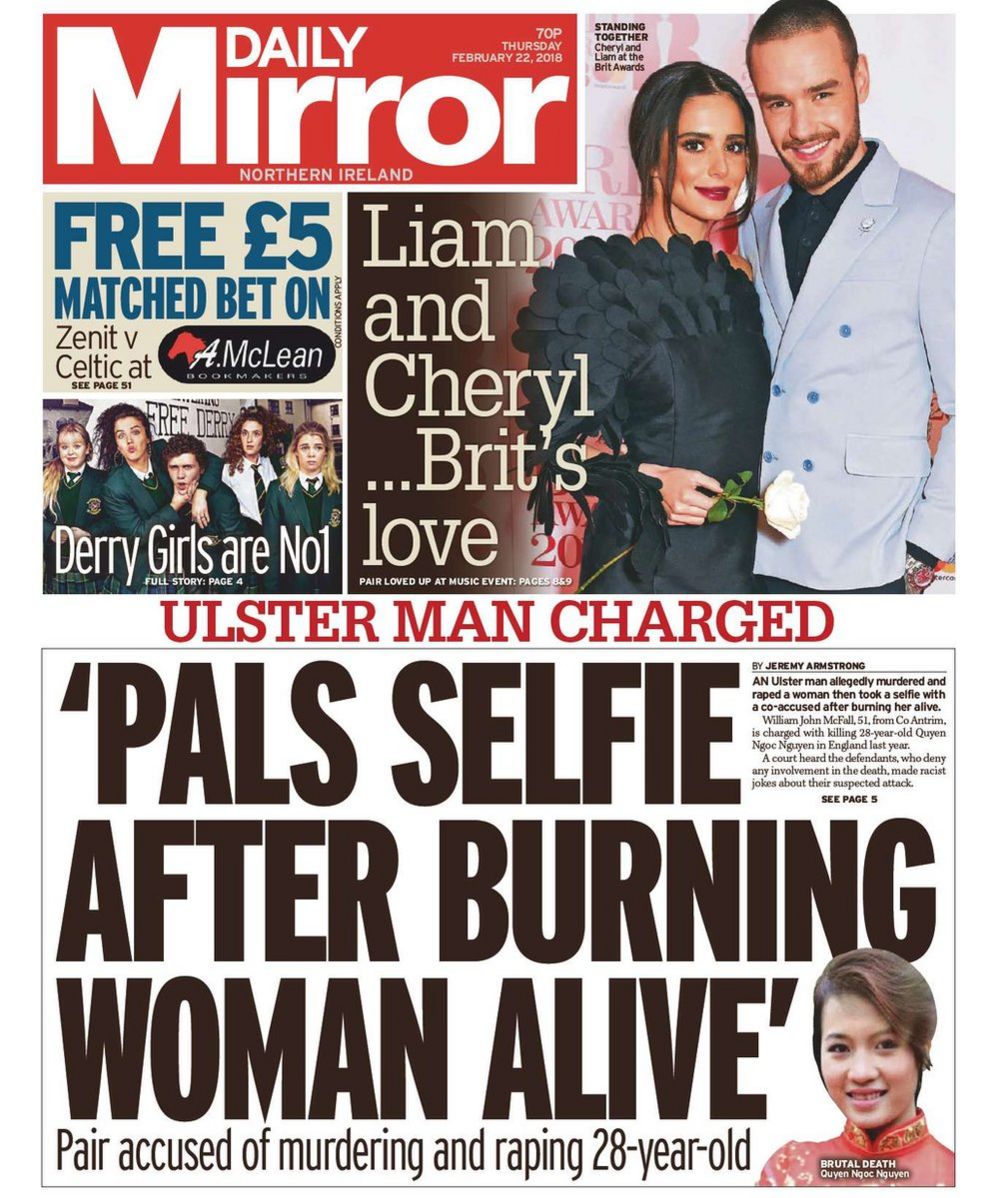 There is "outcry" in Thursday's papers as Sinn Féin's Chris Hazzard moves into new digs.
The office in Castlewellan, County Down, was recently reopened by the party's leader Mary Lou McDonald and bears the names of two prominent IRA men.
The Belfast Telegraph splashes the story across its front page, reporting that terror victims' relatives are "deeply hurt" over the issue.
Sammy Heenan, whose father was murdered by the IRA near the town in 1985, told the paper he was disgusted.
"What message does that send out to a vulnerable Protestant community in that town?" he asked.
"Sadly, using this office named after two terrorists shows selective condemnation of terrorism.
"I have challenged Chris Hazzard twice publicly and he has ignored them both.
"It appears he is not prepared to represent everyone in the community."
The paper has also spoken to Sandra Harrison, whose brother was killed by the IRA 30 years ago.
She said: "We feel like our noses are being rubbed in it."
It reports that unionists were "deeply hurt" by the sign honouring the two men.
Sinn Féin told both papers: "Under the Good Friday Agreement everyone, including Irish republicans, has the right to remember their dead with dignity and respect."
On the paper's front page, the debate over the Irish language rumbles on.
The News Letter reports that £200m has reportedly been spent on the language in the past seven years.
It says Sinn Féin's demand for legislation to protect the language is "a complete fallacy".
But in the Belfast Telegraph, a Protestant Irish language enthusiast tells readers an act would be "no threat to unionists".
Linda Ervine tells the paper that discussions around any deal should be more transparent "to prevent scaremongering among the unionist community".
"Rumours were spread" about the possible content of a proposed Irish language act," she says.
"I read a lot of things about compulsory education, I read things like all businesses and charities would have to have bilingual correspondence, that you'd have to speak Irish to go and see your doctor - a lot of really silly things.
"But I think what it says is that people didn't know and I think maybe people needed to have more idea what was on the table, what was the possibility, what was being agreed to or not agreed to."
Mark Gordon said he "actually laughed to himself" as he filled out his application form to foster for the first time.
The 54-year-old thought his criminal record, and the fact he had spent time in a psychiatric ward, might stand in the way of his ambition to give something back.
Avery Boswer, from Action for Children, said Mr Gordon's story was helping to "bust myths" about who can foster.
He said: "We celebrate diversity in our carers and our staff because our children are all so different."
In 2007 Linda Frew's Akita, Keepa, formed a close bond with the young Barbary lion after it was abandoned by its mother.
The dog helped the little lion to learn some of the skills it needed to survive as an adult.
Now the lion, named Lily, has been moved to the Czech Republic in search of a suitable male partner.
The show averaged more than half a million views over six episodes broadcast in January, and snapped up 64% of the audience share - lethal!
The bag, belonging to Donal McDermott, was used as he tended to the wounded and dying in January 1972.
It is part of an exhibition named Curious Collections on display in the Derry's Tower Museum.
William McFall, 50, whose current address is Waterloo Road, Blackpool, and his co-accused, Stephen Unwin, 39, of St Oswald's Terrace, Houghton-le-Spring, deny any involvement in the death of Quyen Ngoc Nguyen, 29.
On Wednesday, the prosecution told the court that Mr McFall took a selfie after burning the woman alive.