Rugby rape trial: Jackson 'horrified' by claim
By Mark Simpson
BBC News NI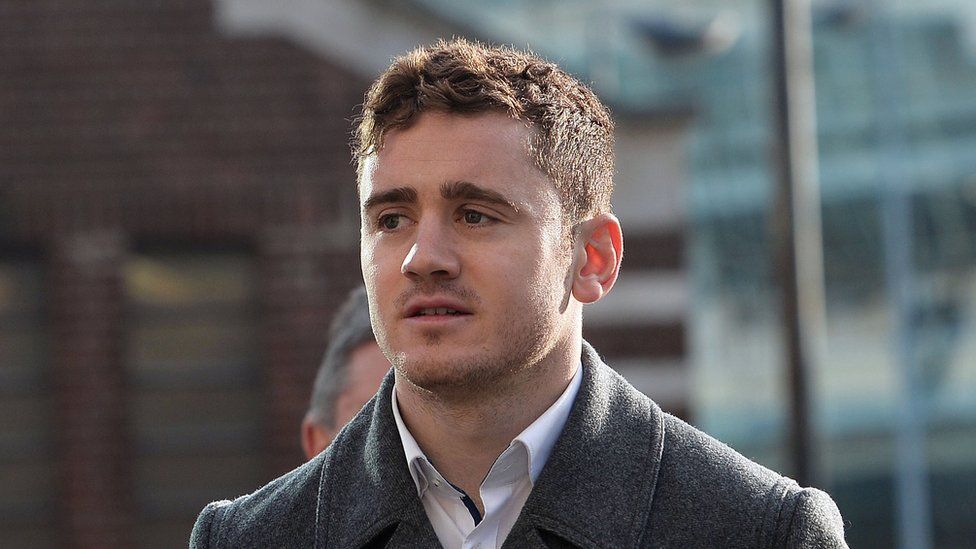 A court has been told that Ulster and Ireland rugby player Paddy Jackson said he was "shocked and horrified" when police put a rape allegation to him.
In an interview at Musgrave police station two days after the alleged rape, Mr Jackson insisted: "I didn't rape her."
He claimed the alleged victim had been flirting with him and followed him up to his bedroom on two occasions.
He told police: "I strenuously deny these allegations.
"I am shocked and horrified that these allegations have been made against me."
Mr Jackson and fellow rugby player Stuart Olding deny raping the same woman in Mr Jackson's house, in the early hours of 28 June 2016.
This was the first time the trial had heard a full account of Paddy Jackson's version of events.
Transcripts of Mr Jackson's police interviews were read out in court. He was interviewed four times on Thursday 30 June, two days after the alleged rape.
The woman, who was 19 at the time, had gone back to Mr Jackson's house with a group of others after an evening at Ollie's nightclub in Belfast.
Mr Jackson said he had never met her before and did not know her name.
He said four young women had come back to the house but he said: "I was not intent on having sex that night."
He said he had been drunk but was not "falling around the place."
He said one woman "was being quite forward with me" and added: "I think she was flirting with me and I was pretty sure that something was going to happen between us."
He said the alleged victim followed him upstairs on the night in question and they kissed.
After she asked him if he knew her name, and he did not know it, nothing more happened and they both went downstairs.
Later, he said "the same thing happened again" - he went upstairs and she followed him.
He said they started kissing again and she performed oral sex on him.
He said that a short time later, his friend Mr Olding came into the bedroom. He said the woman performed oral sex on him too.
At the same time, Mr Jackson also engaged in sexual activity with the woman, but he insisted it was not intercourse.
"She asked me if I had a condom and I didn't," he said. He said the woman "seemed to be enjoying what was happening".
Asked if he thought the sexual activity might be hurting her, Mr Jackson said: "If it did, I would've stopped, I definitely would've stopped."
Mr Jackson said they had all taken part in sexual activity, but it was consensual and no intercourse took place.
He told police: "If she didn't want to be there, I would never have stopped her or tried to keep her there. No way."
Asked how the woman had seemed during the sexual activity with him and Mr Olding, he said: "Fine. I didn't force myself on her."
He added: "She didn't have to stay, she could have left if she wanted to, but she didn't."
In his final police interview on 30 June, the allegations made against him were put to him in detail.
Asked about the first time they went upstairs and started kissing, it was put to him that he had tried to undo the woman's trousers. He said he did not remember doing so.
The alleged victim claims she was raped the second time she went upstairs. She said she went to retrieve a handbag she had left in the bedroom and Mr Jackson followed her upstairs.
When this was put to him, Mr Jackson said: "No. No. I went upstairs first and she followed me."
At one point during the police interview, one of the officers said to Mr Jackson: "I can see you're upset."
The alleged victim claims that Blane McIlroy came into the room naked at one stage.
Mr Jackson said: "I don't remember that."
The court was told that three months later, on 4 October, Mr Jackson was interviewed again. He replied "no comment" to all of the questions he was asked.
Later, the court heard a tape recording of a police interview Stuart Olding gave after being arrested on the same day as Paddy Jackson.
He said that on the night in question his alcohol consumption included four pints of Guinness, two gin and tonics, five vodkas and three shots.
He said he didn't know what was going on in Paddy Jackson's bedroom before he went in.
He told the police: "I was about to leave and then I ended up staying."
He added: "She held her hand out."
Mr Olding denies forcing the woman to perform oral sex on him.
Two other men have also been charged in connection with the case.
Mr Jackson, 26, from Belfast's Oakleigh Park, is charged with one count of rape and one count of sexual assault. He denies the charges.
Mr Olding, 24, from Ardenlee Street, Belfast, is also charged with rape. He too denies the charge.
Blane McIlroy, 26, of Royal Lodge Road, Belfast, is charged with one count of exposure. He denies the charge.
Rory Harrison, 25, of Manse Road, Belfast, is charged with perverting the course of justice and withholding information. He denies the charge.
The 12-person jury has been told by Judge Patricia Smyth to wait until they hear all of the evidence in the case before coming to any final conclusions.