US 'considering names' for NI special envoy role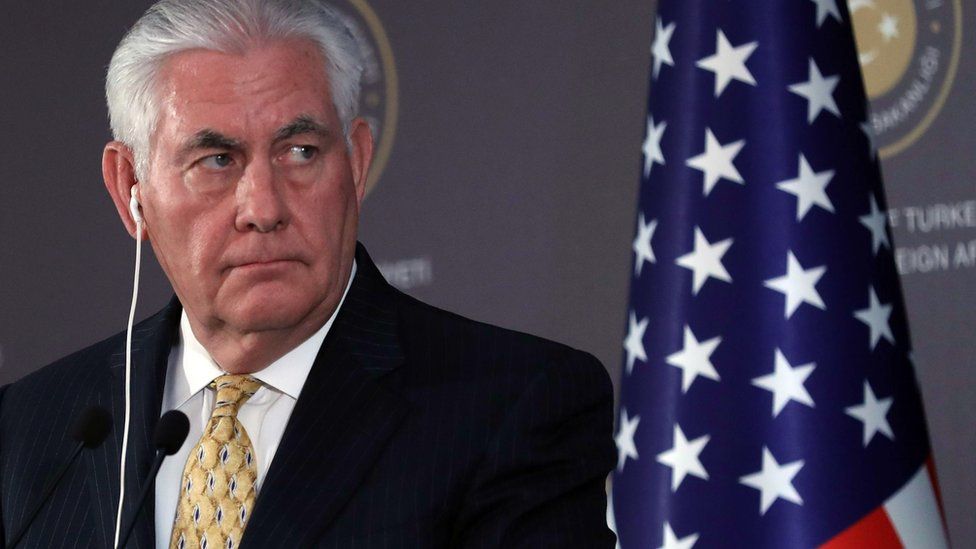 The US government is considering a list of people for the role of special envoy to Northern Ireland, US Secretary of State, Rex Tillerson has said.
"We're reviewing some names with the White House as we currently speak," he told a Washington news conference.
The Trump administration has been urged to fill the post to boost efforts to help restore devolution at Stormont.
Mr Tillerson made his remarks after meeting Tánaiste (Irish Deputy Prime Minister) Simon Coveney in Washington.
After their talks on Friday, Mr Coveney said: "The United States has been instrumental in helping to broker peace in Northern Ireland and continues to provide valuable encouragement and support to the peace process."
The tánaiste confirmed they had discussed the appointment of an envoy, the implications of Brexit and the current impasse between Stormont's two biggest political parties.
Northern Ireland has been without devolved government for 13 months, after a coalition led by the Democratic Unionist Party and Sinn Féin collapsed in January 2017.
The DUP and Sinn Féin blamed each other for the failure of the talks, with the main stumbling block being their disagreement over an Irish language act.
On Saturday, Sinn Féin leader Mary Lou McDonald welcomed the announcement that the US was discussing a new special envoy.
"The appointment of an envoy reflects the positive role that America has played in the peace process," she said.
"This is particularly significant as the 20th anniversary of the signing of the Good Friday Agreement approaches."
Mr Tillerson previously said he would abolish international special envoy positions.
Previous US envoys have included former US Senator George Mitchell, who helped broker the Good Friday Agreement in 1998.