NI newspaper review: Bonfire report leaked
By Erinn Kerr
BBC News NI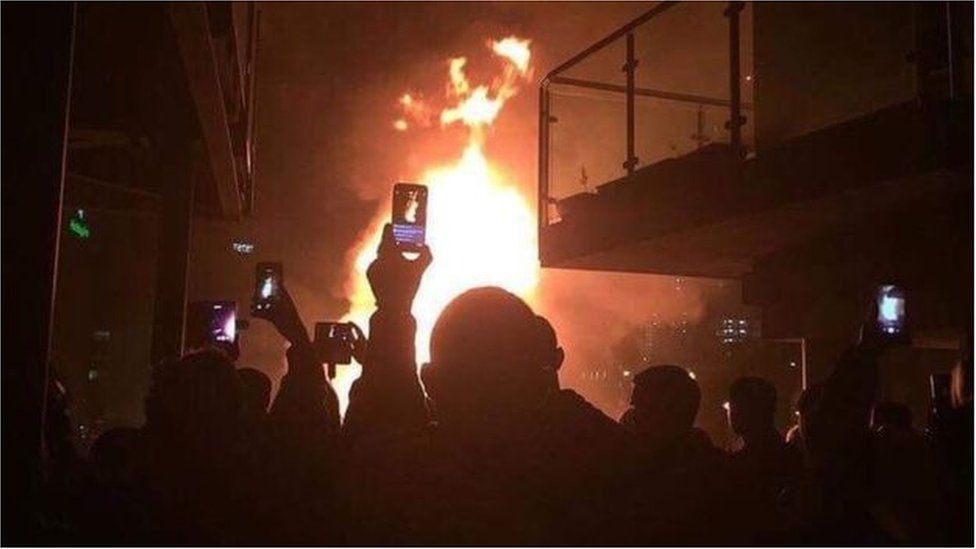 Beautiful blooms, longer evenings and rows over bonfires - all signs that spring is in the air in Northern Ireland.
The Irish News takes the lead early on the topic this year, after a confidential report was leaked to the paper.
One of the findings was that no one was questioned by police over the reported theft of pallets controversially stored by a council for loyalist bonfire builders, which police confirmed to the Irish News.
It also suggests that paramilitaries control bonfires "for legitimacy" and to "control community activities".
Researchers reportedly spent months interviewing officials from the emergency services, councils and other public bodies, who told them they were reluctant to intervene at the annual events because of fears over staff safety and concerns about sparking "widespread public disorder".
'Holding communities to ransom'
One said: "If we get things wrong, we are legitimising things.
"People are extorting, holding communities to ransom."
Some officials reported receiving direct and indirect threats from people associated with bonfires, and being told not to come near sites or remove materials.
The confidential study was carried out by academics from the Ulster University and involved others from the Society of Local Authority Chief Executives and Belfast City Council.
The Irish News reports that the research will feed into the work of the Flags, Identity and Cultural Traditions Commission.
In the News Letter, James Brokenshire is pictured surrounded by cards from well wishers as he voiced his support for a call to allow cancer patients to self-select for experimental treatments on the NHS.
He returned to parliament on Tuesday and said it was time to "challenge the thinking" on ways to treat the disease.
The Equality Commission reports there has been a rise in the number of workplace sexual harassment complaints in Northern Ireland - almost a third in five years.
The watchdog said the claims were "relatively common".
"It is clear from our work and the work of others that sexual harassment is still an issue in Northern Ireland," said chief commissioner of the Equality Commission, Michael Wardlow.
Mrs Cameron reportedly stunned her loved ones when she broke up with husband Ian Lewis — just four days after her first face-to-face meeting with the man she would later marry.
She refuted suggestions that she'd had an affair prior to telling Ian it was all over on a day she described to the paper as "the worst of her life".
The mother-of-three, and Assembly member for South Antrim, said she fell instantly and completely for former senior civil servant Michael Cameron - having his name tattooed on her wrist within days of their initial meeting at a Stormont function which she attended with her husband of 20 years.
She told the Belfast Telegraph that her two oldest children completely shunned her for 18 months after the no-warning announcement that she'd be moving on to a new life.
Mrs Cameron is pictured on the front of the paper under the headline "I've caused incredible hurt to all my family".
Another family story is inside the paper, where a senior Orangeman has attended his daughter's civil partnership ceremony, walking her down the aisle to her partner.
Newly-appointed Belfast grand master, Spencer Beattie, told the Belfast Telegraphs's sister paper, the Sunday Life, he feared a possible backlash from the Orange Order, which is vehemently opposed to same-sex marriage.
The paper reports that the organisation previously described same-sex relationships as a "sign of moral decline".
It said that a senior source in the institution told the paper that Mr Beattie had "nothing to fear".
Another anonymous Orange Order source praised Mr Spencer for proving "they aren't all dinosaurs".