Michael McCoy cleared of weapons and ammunition charges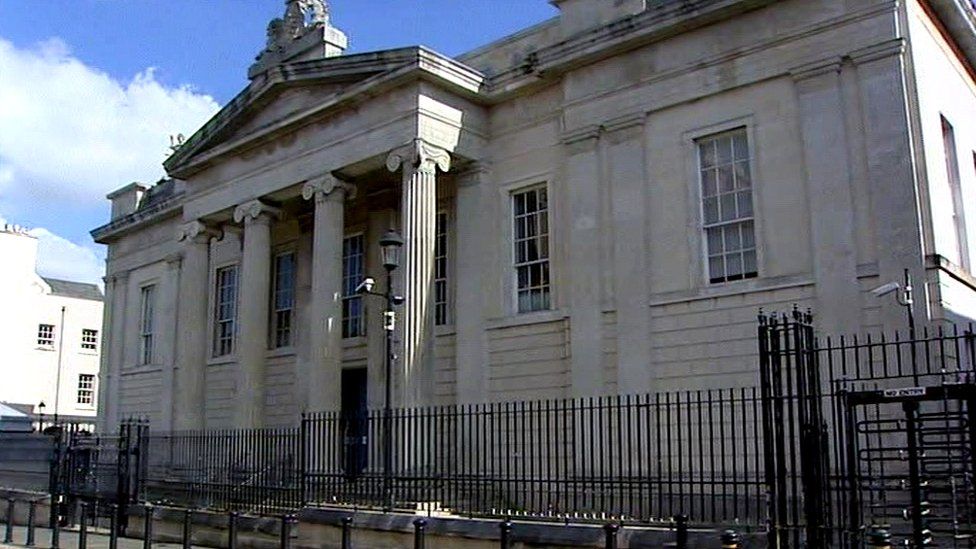 A 22-year old man has been cleared of seven charges linked to a one-punch killing two years ago outside the Elk Bar in County Antrim.
Michael McCoy, a warehouse supervisor from Loughbeg Road in Toomebridge, wept as the jury found him not guilty of intending to pervert the course of justice.
He was also cleared of firearms and ammunition offences.
The charges against Mr McCoy related to the death of James McDonagh.
Mr McDonagh died in hospital in Belfast in January 2016, one day after Mr McCoy's brother Finbar McCoy Jr punched him once on the chin in the car park outside the pub.
McCoy Jr was jailed for one year earlier this month when he pleaded guilty to Mr McDonagh's manslaughter.
A detective constable told the jury that an intoxicated Mr McDonagh had "paid unwarranted attention to female members of the McCoy family" who were celebrating their father Finbar McCoy Sr's retirement.
He said Mr McDonagh punched Mr McCoy Sr on the forehead before he was restrained by family members.
McCoy Jr arrived at the car park to bring his parents home only to see his father bleeding from the forehead and his mother being helped off the ground.
The officer said James McDonagh had "riled" Finbar McCoy Jr before he was punched.
After Mr McDonagh fell to the ground and appeared unresponsive, staff members in the Elk Bar called for an ambulance and Mr McCoy Sr placed him in the recovery position.
However when the ambulance arrived at the scene relatives and friends of Mr McDonagh put him into a van and drove him to his mother's home nearby.
He was placed on the floor and lay there for six hours before he was taken to Antrim Area Hospital unconscious and unresponsive. Mr McDonagh was then transferred to the Royal Victoria Hospital where he died the following afternoon.
The defendant, who was not in the Elk Bar during the incident, was informed of the events by his mother the following morning and went to see his father who was in bed.
"My father had cuts all over his head," he said. "It was tough to look at him.
"I never saw him like that before", he told the jury before he broke down and wept.
He denied he had deliberately removed two shotguns and boxes of ammunition from his family home because he knew the arrival of the police was imminent.
He said his mother had asked him to bring the items to his uncle's house a mile away.
After deliberating for 13 minutes, the jury at Londonderry Crown Court found Mr McCoy unanimously not guilty of all charges.