Neonatal services in NI are 'overstretched', report warns
By Marie-Louise Connolly
BBC News NI Health Correspondent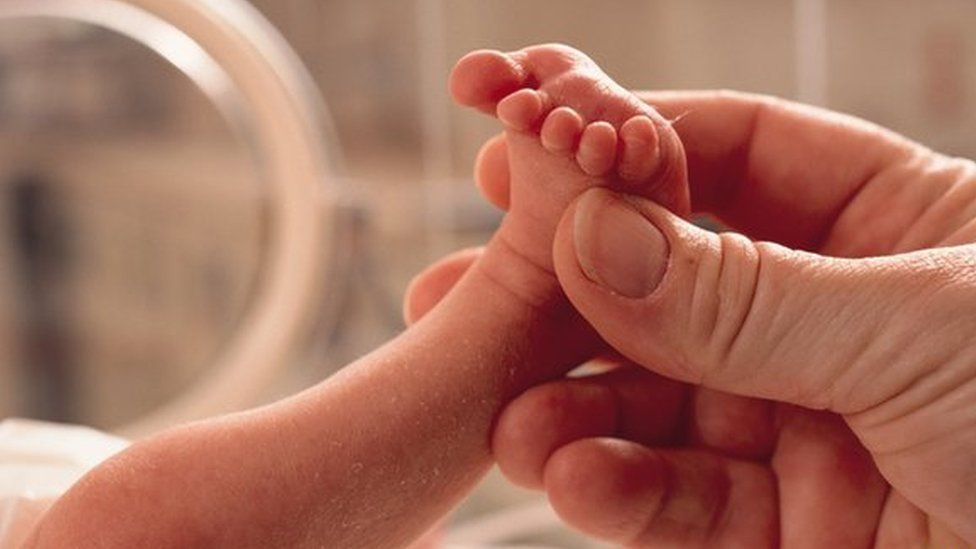 Neonatal services in Northern Ireland are overstretched and under incredible pressure, a new report has warned.
It says unless this is addressed services will be facing a crisis.
The report by Bliss and Tiny Life Northern Ireland highlights a shortage of neonatal nurses and doctors.
As a result, units are not able to ensure the best safety standards and highest quality of care for premature and sick babies all of the time.
The report also states that this is leading staff to have to make difficult decisions such as closing cots to new admissions as a result of working with too few resources.
A spokesperson from the Department of Health said it has been acknowledged that along with the rest of the UK, in Northern Ireland the neonatal staffing levels need to be improved.
"We are addressing this issue in neonatal services through our work on neonatal nurse staffing levels using the delivering care framework," they said.
"The department has increased the annual intake of pre-registration nursing and midwifery students from a baseline of 710 in 2014/15 to 901 in 2017/18, an overall increase of 27%. Within this number, children's nursing has risen from 55 places annually to 81, a 47.3% increase."
The report findings are a result of a survey carried out across six of Northern Ireland's seven neonatal units.
It included questions about admissions, activity levels, staffing, training, facilities for families and other family support including access to psychological services.
Over half of neonatal units do not have enough nurses in post to meet minimum standards for providing safe, high quality care
55% of the nursing shortfall can be attributed to inadequate funding for recruitment
Five out of seven neonatal units in Northern Ireland have difficulties with at least one aspect of nurse training and development. One issue raised by some units was that there are not enough staff to cover shifts to send nurses on enhanced training courses
Five out of seven neonatal units have no dedicated access to a mental health professional and three neonatal units are unable to provide access to any trained mental health professional
Four out of seven neonatal units in NI do not have enough medical staff in post to meet minimum standards
Funding must be made available to ensure all neonatal units across NI are safe, well organised and properly staffed in order to ensure all babies born premature or sick receive the highest possible standards of care
Investment must be made in developing on-site facilities for families so they can be with their baby including overnight accommodation
Urgent investment must be made to ensure every neonatal unit can provide families with access to psychological support
Alison McNulty, the chief executive of Tinylife NI, said that it worked directly with medical staff to support families of premature babies and appreciated "the difficult and challenging circumstances that staff find themselves in whilst working to maintain the best safety standards and quality care".
However, she added that the charity also appreciates that "this is a stressful and worrying time for families and the additional pressures that they face can have long term implications for the family".
Bliss chief executive Caroline Lee-Davey said neonatal services in Northern Ireland "are facing a number of serious challenges which are severely affecting the care of the 1,800 babies born premature or sick in the country every year".
"Our findings show that investment is urgently needed to ensure that every baby born premature or sick can receive the best of care," she added.
"The Department of Health must invest in neonatal care so that neonatal units are able to recruit and properly train their staff. Without this investment services in Northern Ireland will be facing a crisis in years to come, putting the most vulnerable babies at risk."
Responding to the report, Dr Karl McKeever, Officer for Ireland, Royal College of Paediatrics and Child Health (RCPCH) said "health professionals in neonatal units are faced with the difficult decisions highlighted in this report every day".
"It is down to the sheer dedication of these professionals that the service continues to stay afloat but this simply isn't sustainable," he said.
"Until these units are properly supported, the risk of adverse outcomes for the families that need them remain all too real.
"We urge the government to help drive up care for these vulnerable families by ensuring funding is available to properly staff units."