Politicians ready to discuss bridge between NI and Scotland
By Stephen Walker
BBC News NI Political Correspondent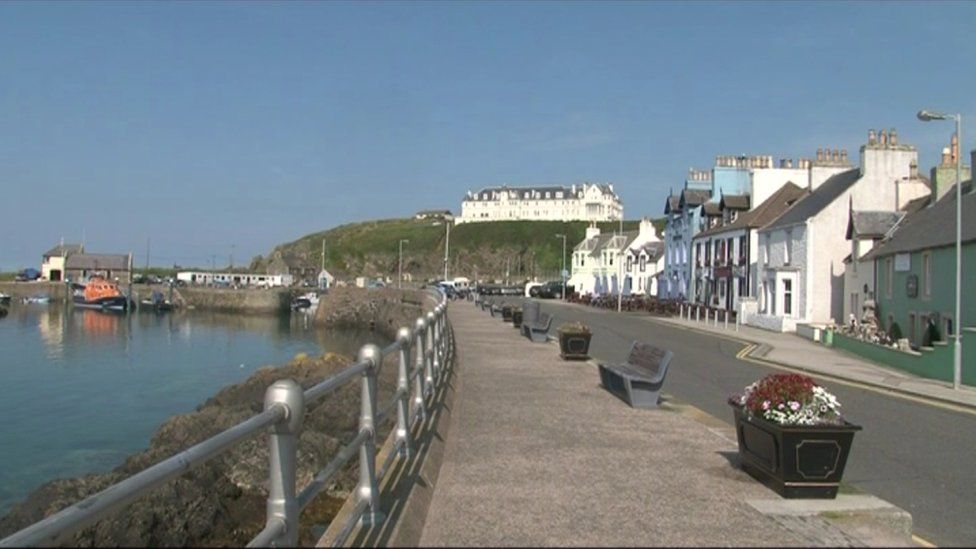 The Scottish government says it is ready to initiate discussions with Belfast and in Dublin about the feasibility of building a bridge between Scotland and Northern Ireland.
A spokesman for the Scottish Government told BBC NI's The View programme that it will "initiate discussions to explore improving connectivity between our two islands".
The spokesman added: "Given the scale of any such fixed link, it is important that all options are fully considered".
The idea of a fixed link has been backed by Scotland's Brexit Minister Mike Russell.
In Dublin, the MSP said recently: "I think it's a great idea. It would open up my constituency - that's the route I would like to see.
"But there's a lot of talking to be done about that. I think it would be important that talking starts on that. Recent coverage indicates that that's something that should happen. As the local MSP, I would definitely support it."
The idea of connecting Scotland and the island of Ireland has been around for over a hundred and thirty years.
Plans from the 1890s show tunnels stretching from counties Down and Antrim to the west of Scotland to carry trains.
Ultimately, despite much consideration, the tunnels were never built.
'Expensive stretch of water'
The construction of a bridge or a tunnel has often been discussed and a proposal was also contained in the 2015 DUP manifesto.
East Antrim MP Sammy Wilson told the BBC: "We have got the most expensive stretch of water for ships and ferries to cross and sometimes it is disrupted by bad weather, etc.
"One of the suggestions we made was if you are going to go for blue sky thinking, huge infrastructure projects, why not look at the 22 miles between Northern Ireland and Scotland and build a bridge which would make travel less expensive and probably more certain."
Professor Alan Dunlop from Liverpool University has examined the options and believes a bridge could be built.
"The best route seems to be from the Mull of Kintyre to the Antrim coast," he said.
"The difficulty with that in the past has been getting from the Mull of Kintyre to the Glasgow central belt and to the central belt of Scotland.
"There are now achievable ways of actually doing that. So I think that the best route, potentially, as far as the simplest connection and the least expensive connection, would be from the Antrim coast to the Mull of Kintyre."
A bridge stretching from Larne in County Antrim to Portpatrick in Dumfries and Galloway is another possibility and it has also been suggested that a link could be created from Bangor, County Down, to Portpatrick.
'Roads should be the priority'
However, some in the business community in Northern Ireland have serious reservations about the large cost of such a project.
Seamus Leheny from the Freight Transport Association says a bridge should not be a priority and instead road projects in Northern Ireland should be funded.
"Some people put a conservative estimate at twenty billion pounds - at a time when our local infrastructure in Northern Ireland is struggling," said Mr Leheny.
"We have flagship projects where we are struggling to get the capital money to build those and also our roads and maintenance budget.
"We simply don't have the money to retain what we already have. So to build a bridge at this cost would be seen as a vanity project by some."
So does the cost make the idea a complete non-starter, or is it worth considering?
Tina McKenzie from the Federation of Small Businesses believes the prospect of a bridge needs to be carefully examined.
She told The View: "It is a very expensive investment like any of these things. We had the same conversation around the Channel Tunnel many years ago. But the question is, will it pay for itself over years now?
"To have a capital investment like that, we are going to create more jobs.
"Northern Ireland could be doing with more jobs. We could upskill our workforce more around the construction piece so it is a good investment for both Northern Ireland and Scotland."
If a bridge was proposed, a proper cost benefit analysis would have to be carried out.
Underwater munitions dump
That is a development the Scottish Government has highlighted and they accept discussions have to take place with groups and politicians in Belfast, Dublin and in Scotland.
Building a bridge would require intensive consultation with local communities on both sides of the North Channel and would raise fundamental questions around where and how it could be constructed.
There are also major concerns about the area known as Beaufort's Dyke, a deep submarine trench in the Irish Sea between Scotland and Northern Ireland.
It was used as a munitions dump since early in the last century and the Ministry of Defence says more than one million tonnes of weapons were jettisoned there.
So beyond the practical difficulties, is a bridge across the North Channel a vanity project or could it be a wise investment?
The idea of linking Northern Ireland and Scotland divides opinion and raises big political and economic questions.
Just as the original plans did 130 years ago.