Bishop John McAreavey 'wrestled' with decision to resign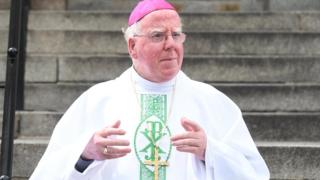 The Bishop of Dromore has written a letter to "the people, religious and clergy" of the diocese following his decision to resign.
Bishop John McAreavey signalled his resignation amid controversy over celebrating Mass alongside a priest he knew was a paedophile on Thursday.
"Today I am writing my letter of resignation as Bishop of Dromore to Pope Francis," he wrote on Saturday.
He said it was not an easy decision to take and one he had "wrestled with".
"Following recent media coverage which has disturbed and upset many people, I decided on Thursday to resign," the bishop wrote.
"I would ask you first and foremost to continue to hold in your prayers those who have been abused and all who are suffering at this time.
"To serve as Bishop of Dromore, my home Diocese, has been the greatest privilege of my life, though not without its challenges."
The celebration of the sacrament of confirmation in the Diocese of Dromore, normally carried out by a bishop, has now been delegated to priests.
Bishop McAreavey had been under pressure over his decision to say Mass along side the late Fr Malachy Finnegan, as well as conducting his funeral.
Fr Finnegan has been accused of sexual abuse by 12 people.
Fr Finnegan, a teacher at St Colman's College in Newry from 1967 to 1976 and president of the school from 1976 to 1987, is also accused of a catalogue of physical and emotional abuse against pupils.
He died in 2002.
The PSNI's public protection branch has set up a dedicated team to investigate complaints of clerical and institutional abuse involving Fr Finnegan.
In a statement, it added that there is a legal obligation for anyone who has information about a serious crime to bring it to the attention of the police.
Details of the abuse claims against Fr Finnegan were revealed in a BBC Spotlight investigation in February.
Fr Finnegan was never prosecuted for sexual abuse, but allegations against him were reviewed by the National Board for Safeguarding Children - a clerical abuse watchdog set up by the Catholic Church.