Translink increases bus and train fares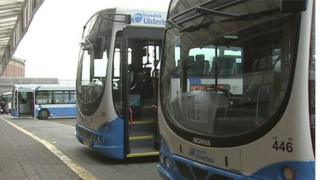 Translink is to put up bus and train fares by "an overall" 2.9% from 26 March.
The company described the increase as "low" and said passengers should consider multi-ticket options to guarantee best value.
One of the fare changes will see a 10p increase on single Metro bus journeys.
The Consumer Council said no-one wanted to see fares increase, and advised customers to check all Translink ticket options.
'More people travelling'
Spokesman Scott Kennerley said: "A passenger travelling on Metro in the Belfast city zone will pay £2 in cash per journey.
"The same journey using a multi-journey card will be £1.45 after the fare review."
Translink chief executive Chris Conway said: "With more people travelling with us over the last year and by keeping our costs down, we have been able to keep fare increases low.
"We know our customers want best value and we encourage everyone to take advantage of the savings to be made with our range of everyday value tickets and offers."