Fines for drivers using phones may rise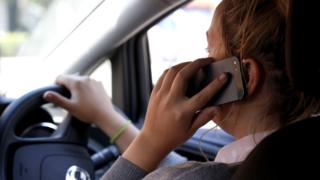 A government proposal to increase the fines and penalties for using a mobile phone while driving in Northern Ireland has gone out for public consultation.
Currently, motorists caught using a hand-held phone while driving face a £60 fine and three penalty points.
The proposal suggests fines should more than treble to £200 while penalty points should double from three to six.
Using a phone while driving is already an offence but this plan would also outlaw "holding" a phone while driving.
If approved, the proposals would bring Northern Ireland into line with the rest of the UK where the law was toughened last year.
On 1 March 2017, the £200 fine and six penalty points for using a mobile phone while driving came into force in England, Scotland and Wales.
The public consultation has been launched by Stormont's Department of Infrastructure, which said the illegal use of mobile phones by drivers is "an increasing problem".
"This consultation considers whether the current offence and penalties continue to represent an active deterrent and also proposes changes that will make it illegal to hold a mobile phone while driving," the statement said.
The consultation is being run alongside a new TV advert campaign, which shows police interviewing a young driver who has caused the death of two brothers by using his phone seconds before a fatal crash.
"Hand-held mobile phones are distracting, yet some drivers continue to ignore the dangers and flout the law," said Donald Starritt from the department's Safe and Sustainable Travel Division.
"Creating a safe community is a key aspect of the draft Programme for Government and this consultation is about making our roads safer for everyone."
Ch Insp Diane Pennington, from the PSNI's Roads Policing unit said: "Police investigations and observations confirm that driving distraction and a decrease in driving standards, caused by phones and other electronic devices, is on the rise.
"Most drivers understand they shouldn't be using their phones when driving and know it's wrong, but still we see it occurring every day on our roads.
"We believe it's time to look at measures to dissuade and deter this behaviour, coupled with potential changes to make it easier to enforce the law."
The consultation will run until 15 May.