Frank Sinatra-approved 91-year-old's stage musical dream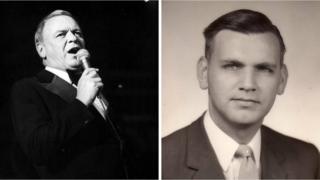 Picture the scene - Frank Sinatra's Manhattan apartment in the early 1960s.
Standing around the piano are Ol' Blue Eyes himself, and at least one of the Kennedy brothers.
At the keyboard, Bill Taylor from Belfast. Bill plays and sings his latest composition, a love song called Maureen. "I like it", says Sinatra. He records it and it's a best seller.
Well, all of that did take place - except the last bit.
Frank didn't take up the song, and Bill missed out on a fortune in royalties.
Bill Taylor spent the first half of the sixties in New York, drumming up investment for Northern Ireland, and it was through the Kennedys that he met Frank Sinatra.
That song, Maureen, is just one of the numbers that Bill has now, at the age of 91, pulled together into a Troubles musical ,which he hopes one day to see on the stage at the Grand Opera House.
It's the story of an IRA man, Con, and Maureen, the daughter of an RUC officer.
The two meet and fall in love, but are separated by the conflict. Con ends up in America, where years later, regretting his part in violence, he meets up again with Maureen, love is reignited, and in a now peaceful Northern Ireland, the ending is a happy one.
Bill inherited his love of music, and his ability to write and perform it, from his mother.
'City has changed'
He's always enjoyed writing and said that people seemed to like to like his stuff and that's why, at this late stage of his career, he's brought it all together.
Of course, our years of violence have spawned many creative efforts, but is a musical a suitable format for the tragedy of the Troubles?
"Of course it is," insists Bill. "There's plenty of tragedy in my musical, but the important thing is that love and peace triumph in the end, and I think the time is absolutely right for a work like this."
Bill was born in north Belfast, but he now lives in the east, and his affection for that part of the city comes through in numbers like East Side Jump, and I Wish I Was Back in Ballymacarrett - and that's not a phrase you'll often hear, on or off the stage!
"I love Belfast," said Bill. "Always did. Of course, the city has changed a lot, but then, so have I."
Bill has spent many years in public service, but he likes to think that this work could be his lasting legacy. The last big number celebrates peace.
'Now we have peace in Ulster, this truly is the day. When we've put old hates behind us, this we pray. From Belleek to Portavogie, from Bushmills to Crossmaglen, we must show the world together that we'll never have the Troubles here again."