Foster decision on inquests 'unlawful and flawed'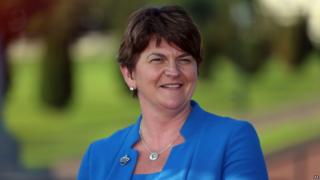 A judge has ruled that Arlene Foster's decision to block funding for the lord chief justice's plan for legacy inquests was unlawful and flawed.
He said the former first minister was wrong to think she could postpone the decision until after political agreement on dealing with the past.
However, Sir Paul Girvan said it was unlikely money would have been released if discussed by the executive.
This was due to failings in the paper supplied by the Justice Department.
The judge rejected a call to compel the Stormont Executive, secretary of state and others to arrange funding of legacy inquests, stating that "the court cannot direct government departments how to spend public funds".
He said the obligation on the state to investigate deaths during the conflict remained whether or not devolved government was restored.
Lord Chief Justice Sir Declan Morgan has sought additional funding to complete 54 inquests into 94 deaths within five years.
Brigid Hughes had challenged ongoing failure by the Executive Office at Stormont, the Justice Department and the Northern Ireland Secretary to put in place adequate funding to prevent further delays in holding legacy inquests.
Her husband Anthony died in May 1987 when he was innocently caught in crossfire between soldiers and the IRA as republicans attacked Loughgall police station in County Armagh.
His is one of the 94 deaths that would be covered by the lord chief justice's proposals.
'A very long time'
Mrs Hughes said: "I am very pleased that things have worked out today the way they have but they have taken a very long time."
A DUP spokesperson said: "We note the court judgement delivered today and will want to carefully study it carefully."
Sinn Féin's Michelle O'Neill said she welcomed the judgement, and that Secretary of State Karen Bradley should release the funding for inquests immediately.
"It vindicates the long campaign by victims and survivors waiting decades for Inquests into their loved ones deaths," she commented.
Alliance MLA and former Stormont justice minister David Ford said the ruling made clear Mrs Foster's decision not to release the funding was "motivated by political considerations".
"Alliance has always argued the funding should go ahead, irrespective of political agreement," he added.
British Irish Intergovernmental Conference
The SDLP legacy spokesperson Dolores Kelly MLA welcomed the judgment saying it "confirmed what many of us have believed for some time".
She reiterated calls for the secretary of state to release funds for inquests.
"But the SDLP has also called for the British and Irish governments to immediately convene the British Irish Intergovernmental Conference to act," she said.
"We have called for both governments jointly to agree a package of legislation, including on the establishment of legacy bodies and the release of inquest funding."