PPS can appeal sentence of UVF supergrass Gary Haggarty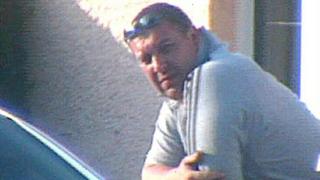 An appeal against the sentence given to loyalist supergrass Gary Haggarty for more than 500 offences, including five murders, will go ahead within weeks.
The Public Prosecution Service (PPS) said last month that it was appealing the six-and-a-half year sentence on the grounds that it was unduly lenient.
But the former UVF commander's lawyers claimed the PPS missed a deadline for lodging its appeal by 25 minutes.
On Friday, three Court of Appeal judges dismissed that challenge.
A lawyer representing Gary Haggarty told the court the PPS had missed a 28-day deadline to make its application.
Martin O'Rourke QC said the Court Service office closed for business at 16:00 GMT on the day the deadline elapsed, but the application had not been delivered until 16:25 GMT.
He argued that as a result "the court has no jurisdiction to hear the application".
However, the three judges rejected the argument that "office hours" should be the cut-off point.
Lord Chief Justice Sir Declan Morgan said the application for appeal "had been delivered on time and within the rules".