Policing Board chair concerned over PSNI accountability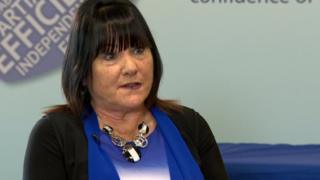 The chairwoman of the Northern Ireland Policing Board has raised concerns about what could happen within the PSNI if it is not fully held to account.
The board does not currently have the legal authority to oversee the Police Service of Northern Ireland due to the political deadlock at Stormont.
Its chairwoman, Anne Connolly, has said Northern Ireland Secretary Karen Bradley needed to step in.
She did not want to see "all of the good in policing fall", she added.
"The longer this goes on the more likely the police are to get a bit carefree about the whole issue, they don't have a board to come to," she told the BBC's Sunday Politics programme.
"Any organisation which is left without having to report openly and accountably to a board and the public, more and more people will start to do their own thing and that gets very difficult."
Northern Ireland has been without a functioning executive since January 2017.
The institutions collapsed following a row between the DUP and Sinn Féin over a botched green energy scheme.
The Policing Board was established as part of policing reforms after the 1998 Good Friday Agreement which helped end the Troubles in Northern Ireland.
It was designed to approve senior appointments and oversee the three-year policing plan.
But high-ranking appointments - such as that of a head of resources, a position which remains unfilled after two years - are not being made, said Mrs Connolly.
Reacting to her comments, PSNI Chief Constable George Hamilton said he had previously voiced concerns about the absence of a policing board.
In October 2017, PSNI Chief Constable George Hamilton expressed concerns about a lack of police accountability as the Policing Board remained without any party political members.
"Not having the full-blown policing board in place is, I think, a deficit for policing," Mr Hamilton said at the time.
On Monday he said he could "reassure the public there is no complacency within the PSNI in relation to accountability".
"We provide regular updates and reports to the Board, in its current form, and welcome any progress in returning the Board to a fully functioning form so that we can continue to be open and transparent to the communities we serve," he added.