Mary McAleese brother physically abused at Newry school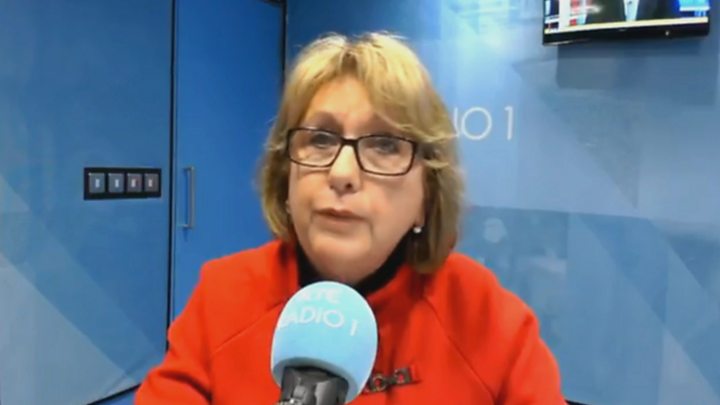 A former Irish president has told how her brother suffered abuse by paedophile priest Fr Malachy Finnegan.
Mary McAleese described his experience as a student at St Colman's College in Newry as "serious, physical and sadistic", however, it was not sexual.
She has called for an independent inquiry into the Catholic Church's response to the allegations.
Fr Finnegan taught at the school from 1967 to 1976 and was later school president. He died in 2002.
He is accused of a catalogue of physical and emotional abuse on pupils.
Speaking to Irish broadcaster RTÉ on Monday, Mrs McAleese said the abuse against her youngest brother, Clement Leneghan, continued "all the years" he was at St Colman's.
"My own mother had to discover this just three weeks ago, by reading it in the Belfast Telegraph," she added.
There are huge questions now, she said, to be answered about those at a senior level and what they knew and when they discovered it.
In a statement. the Catholic Church said that the "bishops agreed that the church can never become complacent concerning the safeguarding of children".
The statement also reiterated a previous commitment "to the review process of dioceses undertaken by the National Board and also their full cooperation with any inquiry required by statutory bodies".
Clement Leneghan wrote a letter to the Belfast Telegraph in February condemning Fr Finnegan as a sadist.
Mr Leneghan wrote that while he was not sexually abused by Fr Finnegan, he suffered other forms of abuse at the school "which Finnegan knew about and allowed to flourish".
"He presided over a culture of bullying, violence, intimidation and secrecy," he said.
"Can he have been able to get away with this for so long without other adults in the school, or the diocese, turning a blind eye, or actively protecting him?" Mr Leneghan wrote.
Victims claim that the police in Newry were alerted to the allegations against Fr Finnegan in 1996 but failed to interview the priest.
The police say that a formal complaint was never made but they did receive a report of historical abuse.
The Bishop of Dromore, John McAreavey, has resigned as a result of the controversy.
He had presided at Fr Finnegan's funeral Mass in 2002 and concelebrated Mass with Fr Finnegan in 2000, despite the priest having been barred from public ministry.
Meanwhile, it has emerged that a priest in the County Down parish of Clonduff has said he has received a threat telling him to leave the area.
Fr Charles Byrne said it referred to the recent sexual abuse scandal, involving Fr Finnegan.
Fr Finnegan was never prosecuted for sexual abuse, but allegations against him were reviewed by the National Board for Safeguarding Children - a clerical abuse watchdog set up by the Catholic Church.
Amnesty International Northern Ireland has welcomed Mrs McAleese's call for a public inquiry.